Why Developing a Growth Mindset is Vital to Your Academic Success
Articles / / 287 views / Popular on CamTrader
Have you ever seen someone else's success and thought to yourself: "Why can't I do the same?" What was your thought process like? Perhaps you believed you lacked some innate quality. Or did you think you could have achieved the same thing if you had put in enough effort?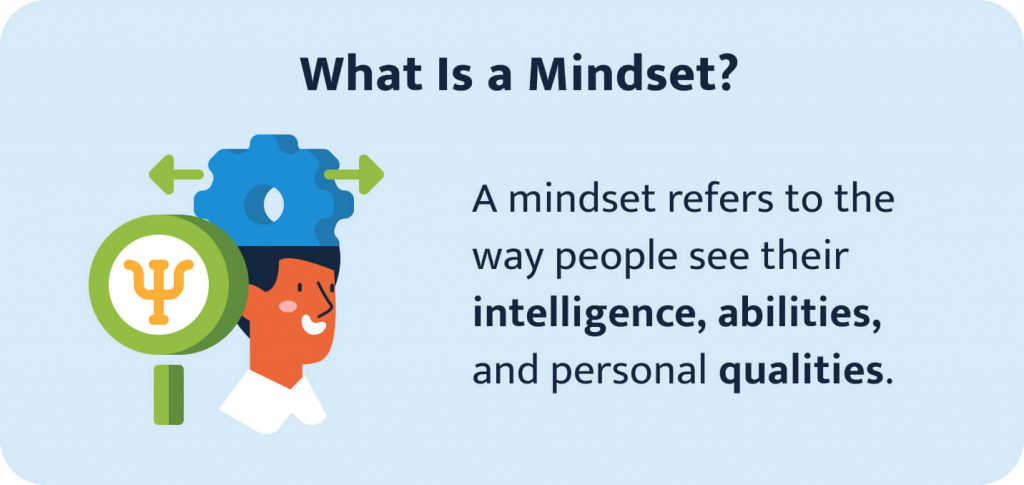 The difference in these attitudes is defined by two distinct mindsets—growth or fixed. You will read all about them in this article by Custom-Writing.org. You'll also learn 15 guaranteed ways of developing a growth mindset, which is instrumental to your mental health and academic success.
🤯 What Is a Growth Mindset vs. Fixed Mindset?
The idea of differing mindsets was first introduced by Carol Dweck, a scientist from Stanford University. The two mindsets refer to the ways in which people view their intelligence:
People who have a growth mindset believe that their intelligence and talents can evolve and be cultivated.

People with a fixed mindset consider their abilities to be set in stone, impossible to change.
As stated in the research, mindsets develop in childhood according to the kind of praise and labeling a person receives. Children praised for their efforts often develop a growth mindset, while those praised for simply being smart or gifted are inclined to develop a fixed mindset. Most people possess traits from both attitudes, but only one is dominant. Want to find out which side you are on? Keep reading!
Fixed Mindset Characteristics
As you might have guessed from the name, people with a fixed mindset believe that personal traits, intelligence, and talents are fixed. They see their mistakes and shortcomings as something they can't change, which prevents them from developing their skills. Here are a few other things that characterize people with this mindset:
| | |
| --- | --- |
| 💢 | They're envious of other people's success. When you believe you can't achieve the same level of mastery as someone else, there's only room for envy. |
| 🏆 | They're hungry for approval. Often, it doesn't even have to be well-deserved approval; any will do. |
| ❌ | They have a negative attitude towards critical feedback. They view criticism as an attack rather than an opportunity to improve. |
| 🧐 | They want to appear intelligent and successful. But it's all about looking smart, not being smart. They want to show everyone how special they are (even if they're not) because there's nothing more shameful than letting their undesirable traits be seen. |
| 💤 | They have little or no desire for personal growth and learning. If you have already been dealt all the intelligence you can hope for, striving for more can feel pointless and downright foolish. |
| 🙅 | They avoid challenges and risks. Those can bring failure, which is perceived as a shameful outcome. |
These beliefs encourage people with a fixed mindset to give up easily, which is unfortunate because they probably are capable of achieving their desired goal.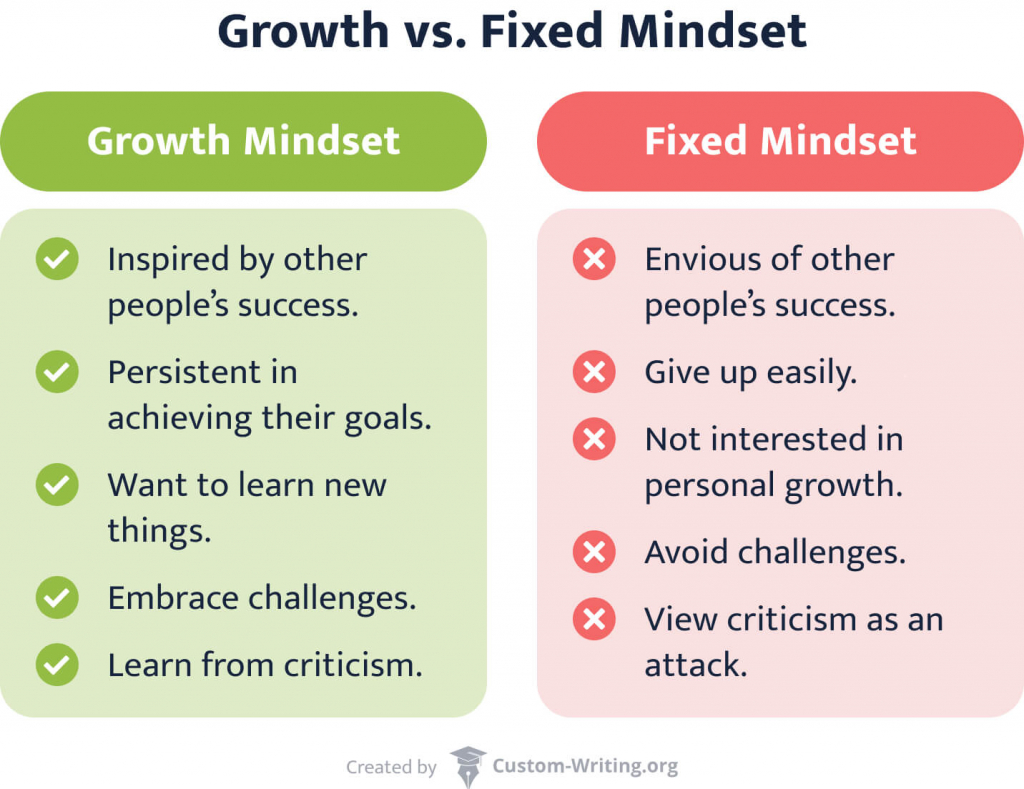 Growth Mindset Characteristics
Unlike people with a fixed mindset, those with a growth mindset think they can change for the better and develop their skills if they devote enough effort to the task at hand. They're characterized by the following beliefs:
| | |
| --- | --- |
| ✨ | They see other people's success as inspiration. Comparing yourself with someone else makes you want to grow and get better instead of thinking less of yourself. |
| 💪 | They want to learn and develop better skills. Their belief that progress is possible inspires them. |
| 🏅 | They're persistent in achieving their goals. Working hard for something is not a sign of weakness but an opportunity to succeed. |
| 📈 | They believe that failures are temporary. Mistakes can be a valuable source of ideas about getting better at what you do. |
| 📝 | They see criticism as an opportunity to learn. They understand that feedback is not a personal attack but a call to action. |
| 🏋️ | They embrace challenges and risks. They don't resist a challenge because they're not afraid of failure. A person with a growth mindset might not believe success is guaranteed, but they're going to try anyway. |
This attitude towards yourself and your mistakes allows you to reach your goals and constantly develop as a person.
What Is a False Growth Mindset?
It's no surprise that when the concept of fixed vs. growth mindset gained popularity, millions of people started to apply the growth mindset principles. However, they often misinterpret and misuse Carol Dweck's ideas about a growth mindset.
For example, it's been widely used to 

praise

 employees or students for their effort, even if they have been unproductive. 

But there is no value in praise for the sake of praise,

 according to Professor Dweck. Praising the process that yields bad results leads to nothing but more bad results. What has to be commended is the process that leads to progress and improvement.

People might also confuse certain 

qualities

 with a growth mindset. 

Being positive is not the main idea of a growth mindset.

 Having those qualities doesn't mean having a 100% growth mindset. In fact, everyone has a mix of the two mindsets.
As a result, Dweck suggested the concept of a false growth mindset. It is a simplified version of the actual growth mindset, which is ineffective and may even be harmful.
🌟 Benefits of a Growth Mindset
As you have seen, a growth mindset helps us become successful and constantly learn new things, but that's not all. You'll be surprised to learn that such an attitude has numerous benefits in virtually all spheres of our lives.