What To Look For In A Gaming Monitor
Popular on CamTrader
Articles / Posted 7 months ago / 120 views
So you want to buy a gaming monitor but you don't know where to start? These days you can spend all day and night on the internet researching what to look for in a gaming monitor and you'll end up with about a hundred conflicting arguments on what features or brands are best.
If you just want to see what we picked as the best gaming monitor, then check out our best gaming monitor buying guide, where we tackle a ton of different, great options to bring you the best of the best.
We're here to give you the key points and features to look at when choosing a new monitor for your gaming rig. So, let's dive right in.
What Features Are Most Important?
Whether you're brand new to the world of gaming or you're playing at an expert level, you'll be faced with navigating the hundreds of options available. But what features are most important? Figuring this out before trawling through all of the different brands and models will help save you time and money.
Here are the most important things to consider when searching out a gaming monitor that meets your needs:
Screen Size & Resolution
Refresh Rate
Response Time
Panel Types
FreeSync & G-Sync
Color
Build Quality
Ports
How Much Should I Spend?
While these are all important features, the order of their importance will depend on what you're looking for from a gaming monitor.
Key Features for best smoothness
If you want smoothness above all, this is your order of priority:
Refresh Rate – No less than 120 Hz! This means 1080p on budget builds; 1440p as you push higher.
Response Time – No more than 3ms!
G-Sync or FreeSync – Variable refresh rate helps sync FPS and refresh rate to give a much smoother gaming experience!
HDR and deep color gamut – Optional! HDR isn't always widely supported.
Choosing the right panel technology – IPS have come a long way over the last few years, providing good color accuracy alongside great refresh rates. That said, TN panels are still widely used by gamers for their quick response and low input lag.
Key features for best resolution and colour detail
If you want picture clarity and color accuracy above all, this is your order of priority (Note: this route is arguably more expensive):
IPS panel technology
Better color reproduction and viewing angles provide a more immersive gaming experience!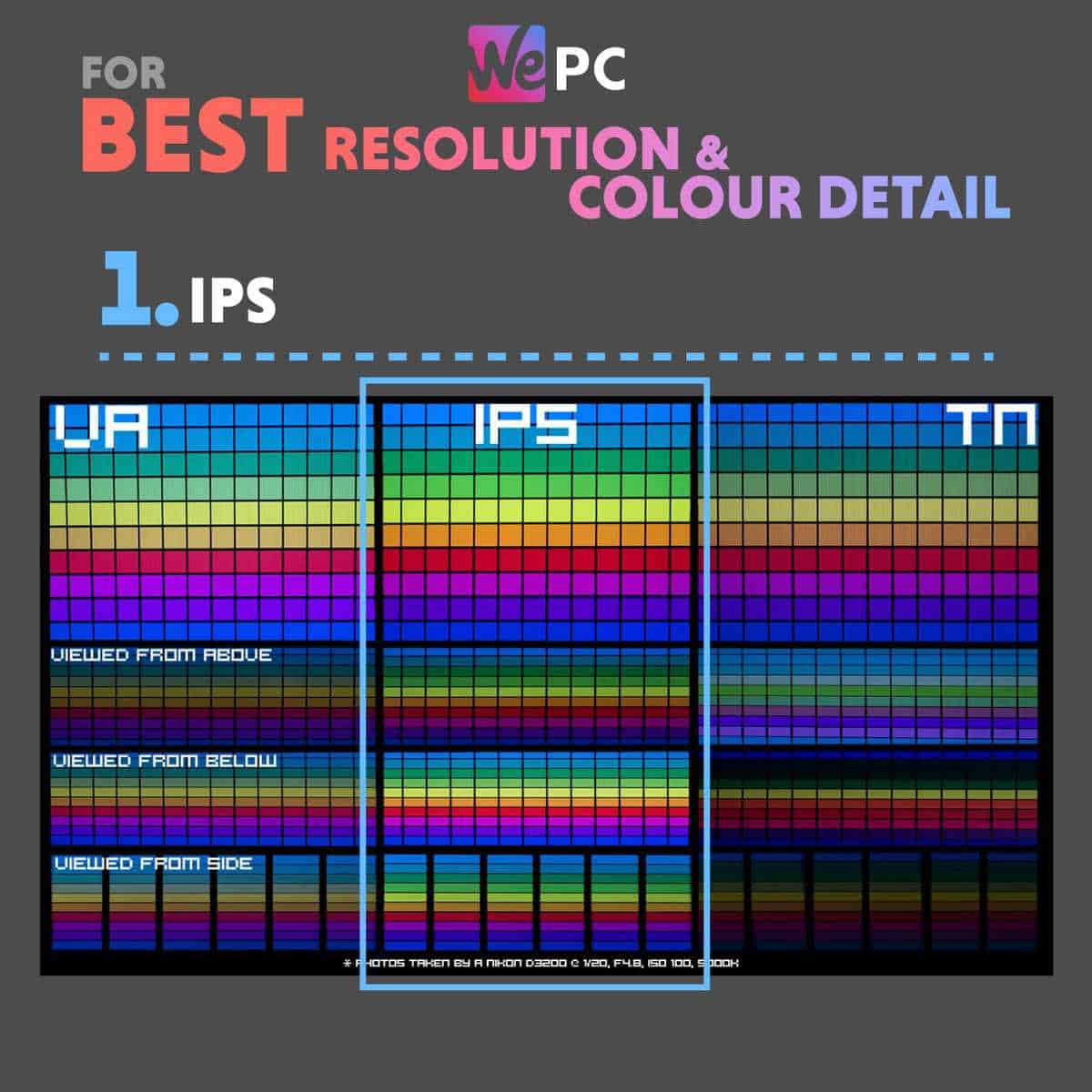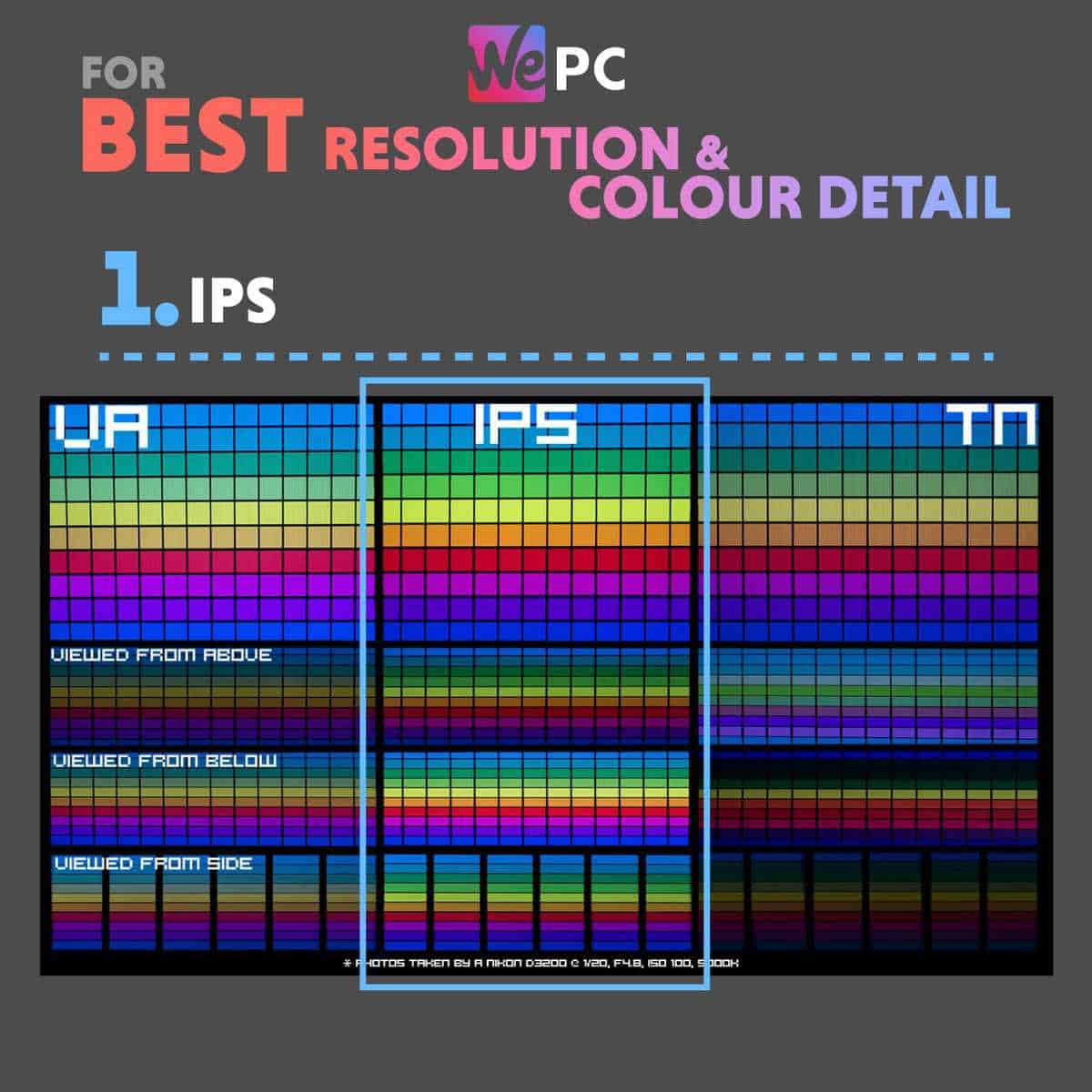 HDR and wide color gamut
Expensive and somewhat rare, but awesome where you can get it!
As you can see from the graphic above, HDR (or high dynamic range) offers a greater contrast ratio than SDR – providing a greater range between the brightest white and the darkest black. For this reason, HDR offers a much more realistic and color-accurate final image – two factors that increase the overall viewing experience of a particular panel.
4K
4K will give you exceptional clarity and a tonne of desktop real-estate.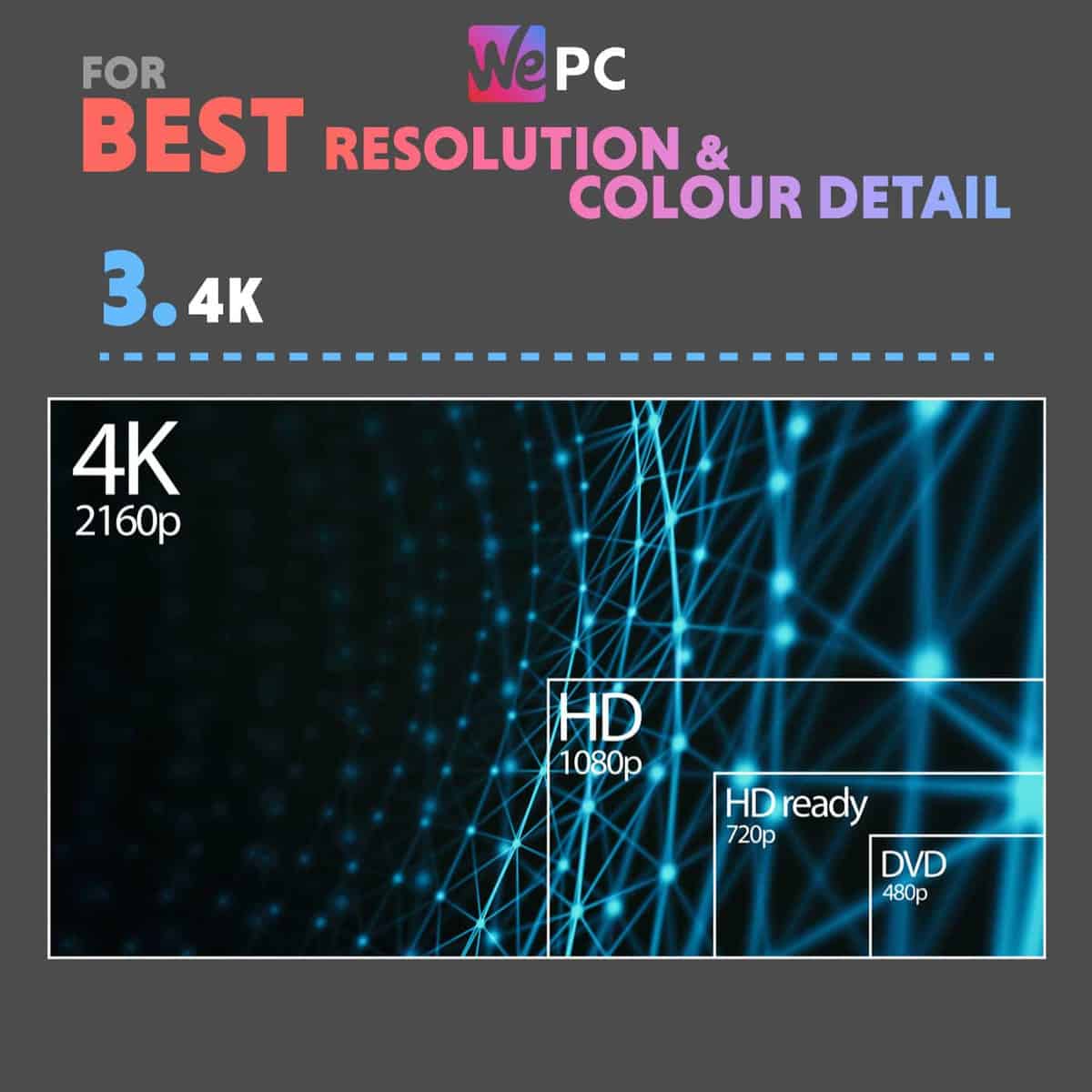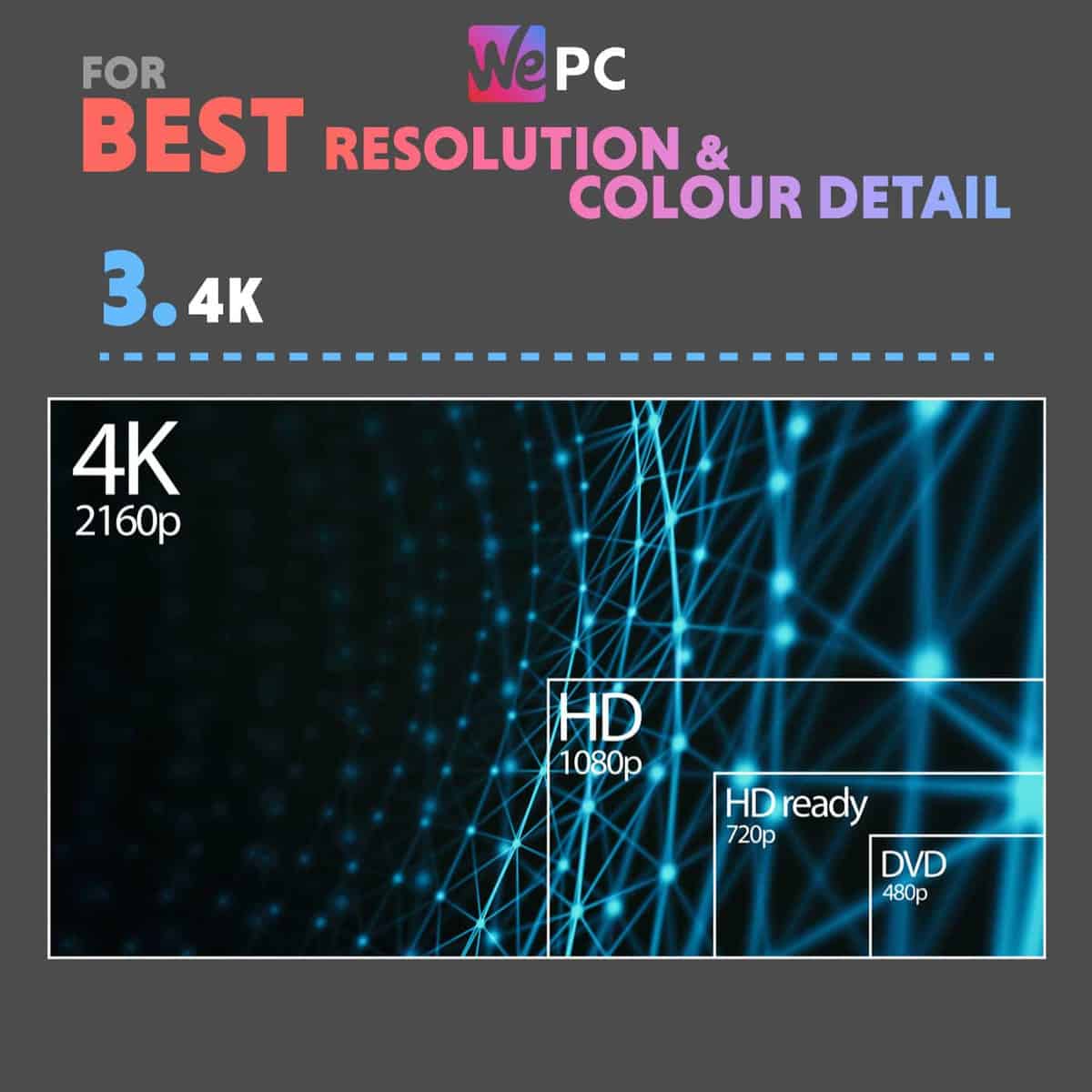 Many people make the mistake of thinking a larger screen size is always better. While this is mainly true in televisions most people find that sizes ranging from 24" to 27" are best for gaming. You'll generally be sitting about 3-4 ft away from the screen and monitors in this size range will still allow you to see everything at once – something crucial for competitive gaming. Having said that, larger monitors are now becoming increasingly popular amongst today's gaming community – providing greater levels of immersion and entertainment. Remember though, moving up the theoretical screen size ladder can add a premium to the final price tag.
Also, remember – you have to be able to fit it on your desk!
What Resolution Do I Need For Gaming?
The resolution you need for gaming will ultimately be determined by your PC's GPU, and how much of a budget you're working with. Expect to pay more when you are wanting to enjoy high resolution gaming.
1080p is the most common resolution amongst gamers but, as new games and PC technology are released, expect 1440p and 4k to be the de facto standard for the everyday gamer.
One thing to bear in mind, however, is that going from 1080p to 1440p (or 4k) will have a significant impact on the performance of the PC. This will have a particularly large impact on gaming performance, reducing the number of frames your PC can drive in any one game.
Below, we've listed optimal gaming monitor sizes for each of the popular resolutions. If you want our detailed explanation to why, check out our article on the best monitor size for gaming. Also, on average, remember that larger size and/or higher resolution will cost more money.
1080p and 24 inches/27 inches – Most common, should work fine with most setups.
1440p and 27 inches – Less common, will need mid-to-high-end hardware to make the most of.
4K and 27+ inches – Least common, will need the best hardware to make the most of.
8K and 32+ inches – Emerging technology, will need the best hardware and currently there aren't any native 8K games available.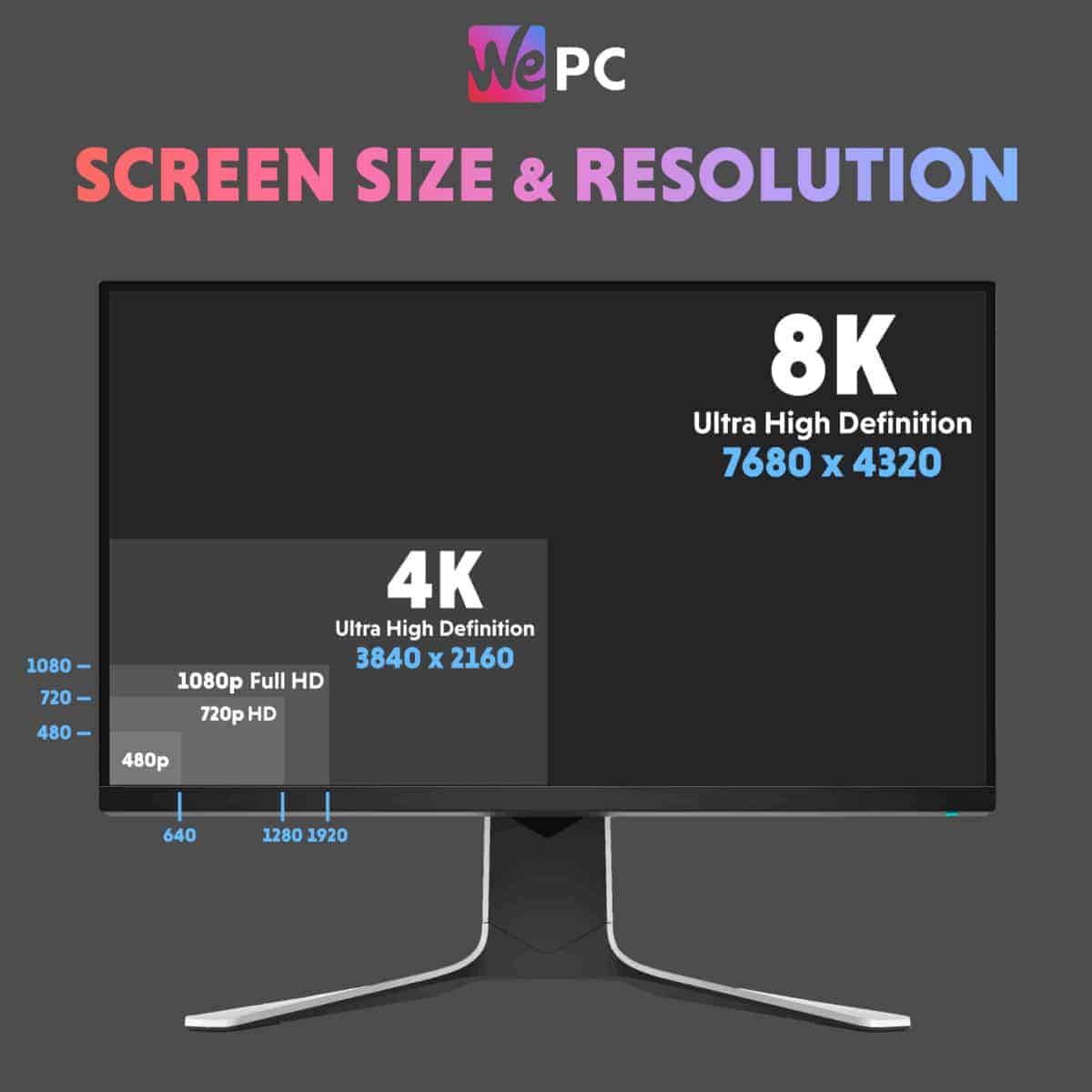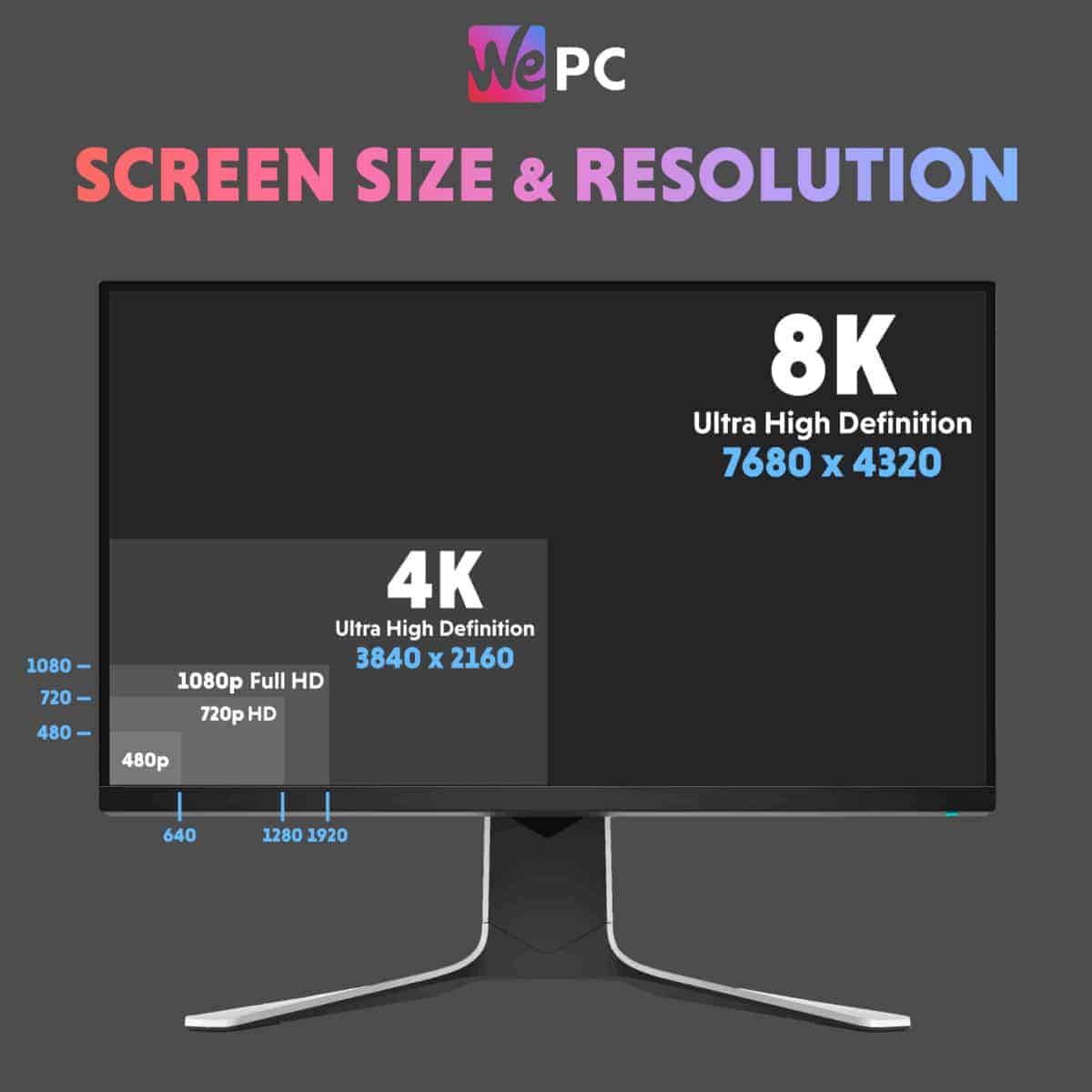 Aspect Ratios
Resolution is undoubtedly important when you're looking for the best gaming monitor for your setup, but one thing that is often overlooked is the aspect ratio.
Below, we'll take a look at the different aspect ratios available to choose from, and how each one is better suited for individual gaming setups.
Widescreen (16:9) Or Ultrawide (21:9)?
The resolution of a monitor is one of the features that will make your games look great. With a higher resolution comes more pixels on the screen, and with more pixels comes better clarity and picture quality. Although this won't give you a competitive edge, it sure will make your games look great and will add to the overall immersion.
The size of the monitor will also affect the resolution you intend to run. Most gamers play on a 1080p resolution which looks great on 24" monitors. However, if you intend to push up your resolution to 1440p or even 4k, you'll want a larger screen size.
We also discuss this in the best monitor size article, but the short version is: use a single 16:9 monitor for gaming. Ultrawide and multi-monitor setups can work, but their support for gaming is limited, and in some cases can be outright worse, especially in multiplayer titles (where they won't allow you to utilize a wider FOV since it can be considered a competitive advantage).
Before you go out and buy a huge screen, make sure you have the video hardware to support these sizes, as the increased number of pixels will create a larger workload for your GPU. If it's high FPS you're going for, you're going to need a top-end system to support the increased resolution.