The Ultimate Guide To Setting Up A Saltwater Aquarium
Popular on CamTrader
Articles / Posted 7 months ago / 157 views
Introduction
So, you've decided to set up a saltwater aquarium but you're not sure where to start. This can be a difficult process, especially for newcomers who've never set up a tank or worked with saltwater before.
Whether you're new to this entirely or you're used to housing fish in other water environments, this guide should cover everything you want to know to get started with your own domestic saltwater aquarium.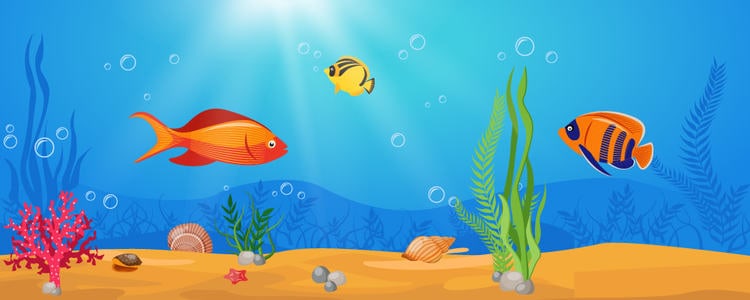 Below you'll find we've covered the following:
How to plan your aquarium size and location
Equipment you'll need and how to set it up
How to mix saltwater and test it
Some of the best saltwater fish for beginners
How to maintain your aquarium
Of course, we have other pearls of conventional wisdom spread throughout, too. You'll also notice that, where possible, we have referenced away to supporting material. These are to support any claims that we make or link away to more in-depth pieces of information on any one section.
While this guide covers everything, we've strengthened it by adding references that go into more detail on some of the topics we cover.
Now that we know what to expect, let's get into our guide to setting up your very own saltwater aquarium.
Planning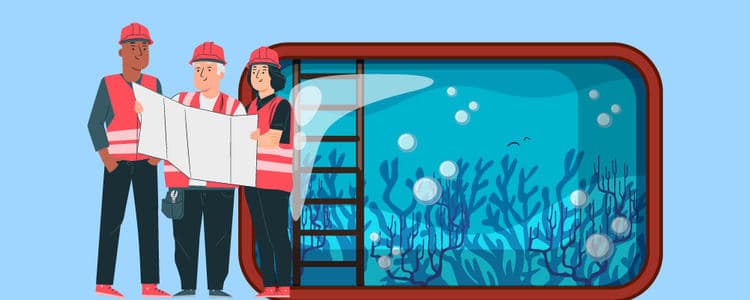 Even some of the smallest aquariums are still quite big when measured against most other installations or pieces of furniture in your house. That's why it's paramount that you plan out your saltwater aquarium before you even think about making a possibly incorrect and unnecessary purchase.
There are two main considerations when planning your aquarium. They feed into each other, too, so if you have an answer to one then you should be able to determine the other. They are tank size and tank location.
Tank Size – Bigger is Always Better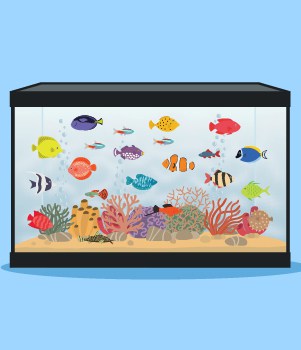 As you can read in the subheading, it's often the case that bigger is better when it comes to aquariums. What does this mean?
Well, it doesn't mean that you should bulldoze walls out of your home to make room for the biggest saltwater aquarium you can afford.
Instead, it means that there's no reason not to get the biggest aquarium within your financial and spatial needs.
Without making any substantial change to your home, identify a location. We have more on how to do that below. Once that's done, you'll need to figure out how many fish you want and how big those fish species are.
As we said above, we have a list of beginner saltwater species below, so check them out if you're stuck for ideas.
The tank size you choose will depend on the location and the quantity and number of fish you want to house. If you're just starting slow but you expect to get more, there's nothing wrong with future-proofing by getting a larger tank than you currently need.
Just make sure that the fish you choose will be comfortable in the larger environment.
Paradoxically, many beginners opt for very small aquariums that can actually be more complicated to run when maintaining a specific environment, like tropical and, you guessed it, saltwater.
Also, they find out they really like fish and end up getting more, maxing out the spatial capacity of their tank. Remember that more active fish species will require a higher minimum gallon count to freely move around in.
If you do know what you want and exactly how you want it, you can get starter kits that include all the equipment you need for a humble aquarium setup. These limit your choice of components, something we'll get into later, but their convenience can make the whole process much less stressful.
We'd say to just get the largest tank that your budget can afford, that can also comfortably fit into your home. Speaking of which…
Where to Keep the Aquarium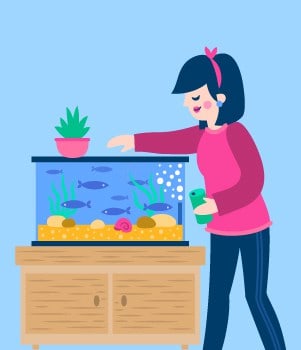 Of course, the location of your aquarium is going to inform its size.
Sometimes you can eyeball it or be confident that the tank you have in mind will fit in its planned space, but as a point of principle, you should always get measurements before committing to any grand aquarium project.
Don't just peer over the tip of your thumb and call it a day.
There are other considerations here too, like the sun. Keep the tank out of direct sunlight to avoid the growth of harmful algae and the warming of the water.
Similarly, keep it out of the way of any draft points in your home as this can cool the water, sabotaging temperature regulation. You'll want a place with a stable temperature profile, meaning keep it away from cooling influences like windows and air conditioners and heating influences like heaters and radiators.
Remember you'll have to clean and maintain the aquarium too, so avoid putting it in a cramped space where you can't properly access vital mechanisms or comfortable clean the interior of the tank.
You also want it to be suitably visible to yourself and guests, of course. Why spend money on the tank and the fish to go in it if you're going to tuck them away into a dark corner?
Another thing to keep in mind, once it's set up, you really don't want to have to move it. That's a lot of work and will involve disturbing your fish by draining the water, stressing them out. In order to avoid that stress, for both yourself and the fish, you should put it somewhere that isn't needed for the far foreseeable future.
Equipment and Set-Up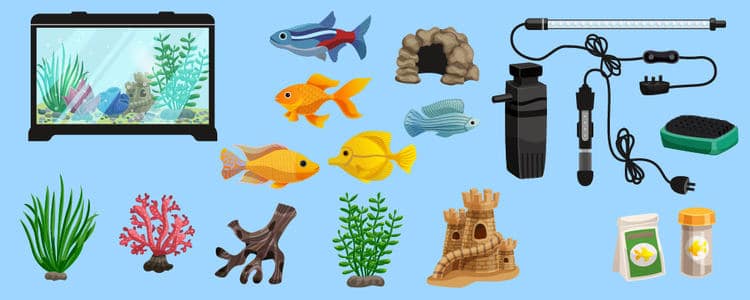 So, you've got a dream aquarium in mind and the perfect place to put it. The question now is, how do you set it up and what do you need? Let's talk about prefabricated aquarium kits and building your own tank, and which one may be more suited to you.
We've also got a quickfire guide on what you should do for the tank, stand, pumps, filtration, light, and heater of your aquarium setup.
All in One or Build Your Own?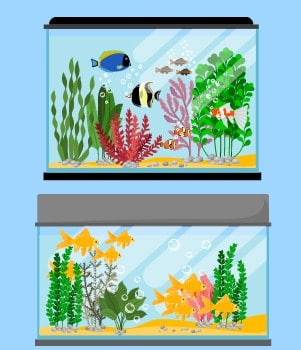 This is a question that'll come up early in the process of setting up your own aquarium.
Just a cursory look online shows so many options for aquariums and, to make it all the more convenient for first-timers, many of them are pre-fabricated.
By pre-fabricated, these are all-in-one tanks that come with stands, pumps, and all the work you should want to get a functional aquarium off the ground.
That doesn't mean you won't have to make accompanying purchases, of course, but most of the work is already done.
So, what are the benefits of this?
It's more convenient
Easy to understand and acquire individual parts as part of a package
Can be less expensive than acquiring individual parts yourself, depending on the setup.
The main downside is that you don't get as much control over the setup that you would with a piecemeal system. That said, we'd very much recommend looking at your all-in-one options. If the options available to you are suitable in both size and price, there's nothing wrong with getting one.
If you're in need of other opinions, there are many trusted voices online who have taken a look at and compared aquarium types.
Equipment Needed
Let's say that you do want to build your aquarium system piece by piece, either to potentially save some cash or to learn the ins and outs of a fish tank. In that case, you're going to need a few things:
Tank
Yes, we're starting with the obvious. For your fish tank, you'll want a fish tank. We've already covered the size and space considerations you need to keep in mind above, so let's go into more detail about what you should have in your tank.
For one, you want a tank that can house the pump and filtration systems that the tank runs off of, which is why so many larger tanks function as storage to keep all those mechanisms close to the aquarium itself.
It'll also need access to plug sockets and other electrical power supplies.
You also need to decide on a material for the tank. Fortunately, you only have to choose between glass and acrylic. Glass is recommended as they're more cost-effective and scratch-resistant, and it'll stay clear for a long time to come.
They are heavier though, and it is glass, so it's brittle and can break from impact. Thick glass doesn't have that problem, and you should definitely have reliable, thicker glass for your aquarium, but that just adds to the weight.
A rare but possible fault is also that the silicon used to prevent leakage fails. You can avoid this by buying from a reputable brand.
As for acrylic aquariums, they're easier to mold into different shapes, meaning your aquarium is made from fewer pieces which eliminates the possibility of leakage. They're lighter too, so easy to haul around when building your aquarium for the first time.
The downside to acrylic is that it can scratch quite easily and so you need to clean and place decorations inside the tank carefully. It'll also get foggy over time as micro-scratches build up from cleaning. It can also cost more than glass.
Stand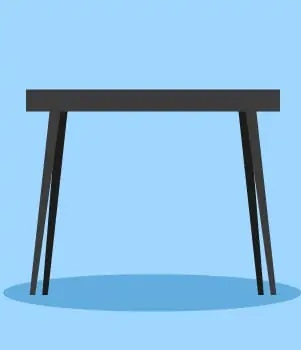 Your aquarium isn't going on the floor, it's going to need a stand. This won't be any old stand, however, as it'll need to bear the tremendous weight of your fish tank and all that water, while also having storage space for equipment and the onboard filtration system.
This means that your stand will usually be a solid one, not an open-framed one that can't store much or even support the aquarium's weight.
A solid stand can also be used to match the style of both the aquarium and, in doing so, tie the tank to the room better where décor is concerned.
It's not uncommon to get a tank and aquarium as a combination, so don't stress too much about choosing a stand if you haven't got a specific product in mind yet, chances are that you'll get a tank that automatically comes on-stand.
Pumps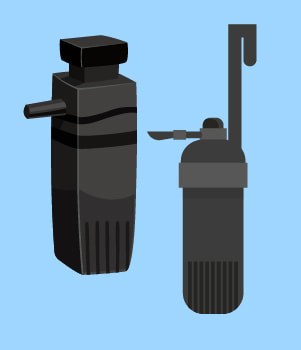 Pumps are how air is transferred throughout your aquarium system. They increase tank circulation by moving air and water around, balancing the levels of carbon dioxide and oxygen within your tank.
They also increase surface area in the tank, allowing for gaseous exchanges that turn that carbon dioxide into oxygen.
You may want a pump in your aquarium because it'll help your fish to breathe.
More oxygen is good for your fish, so you should definitely budget for a pump if you can.
They're also great for replicating the natural conditions that come with flowing water and can be made to look good in your tank.
I'm sure we've all seen the erupting sea volcano ornaments before, those are often functional air pumps in disguise. If you're getting semi-aquatic animals, crabs, or frogs being the more popular examples, you'll want to have as much oxygen as possible, so get a pump.
It's also relaxing to watch, adding a quiet calmness to the aquarium that's appealing visually. It's worth noting that if you have an undergravel or canister filter, more information below, then you probably don't need a separate air pump.