Remote Work-Life Balance: Creating a WFH Life that Works for You
Articles / / 299 views / Popular on CamTrader
Just a few decades ago, a typical day at work for most people involved a congested commute, a cold office and plenty of in-person meetings. But flash forward to today and the typical worker is rolling out of bed right before their workday starts, walking a few steps into their home office and getting started on a project while they're still in their PJs.
The remote work boom has officially arrived — at lightning-fast speed thanks to the pandemic — and workers across the country are relishing in the freedom and added comfort it provides. Some are even changing their home to fit their new needs. But with a huge shift in how the average American logs on, comes a shift in how they log off as well because after all, it's hard to draw a line between work and home when they take place together.
To help remote workers create a well-balanced work-from-home life, we've broken down plenty of science-backed tips to make the most out of your day and learn how to disconnect once and for all.
The benefits of working from home
While you may have seen the influx of negative press about working from home just a few months into the pandemic, in reality, there are a lot of benefits to this new way of working. From the environmental impacts to improved mental health, below are just a few of the data-backed benefits of switching to remote work.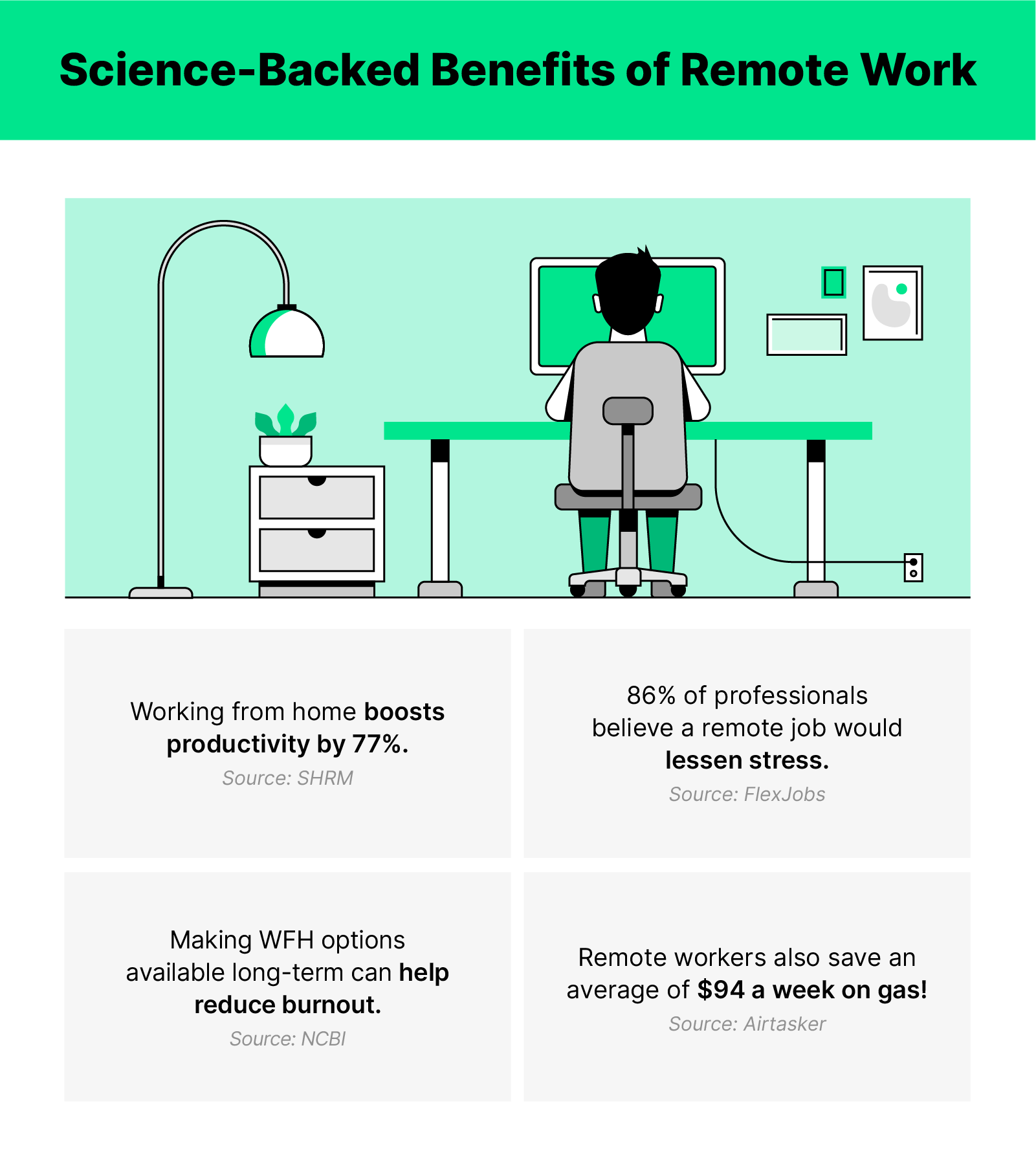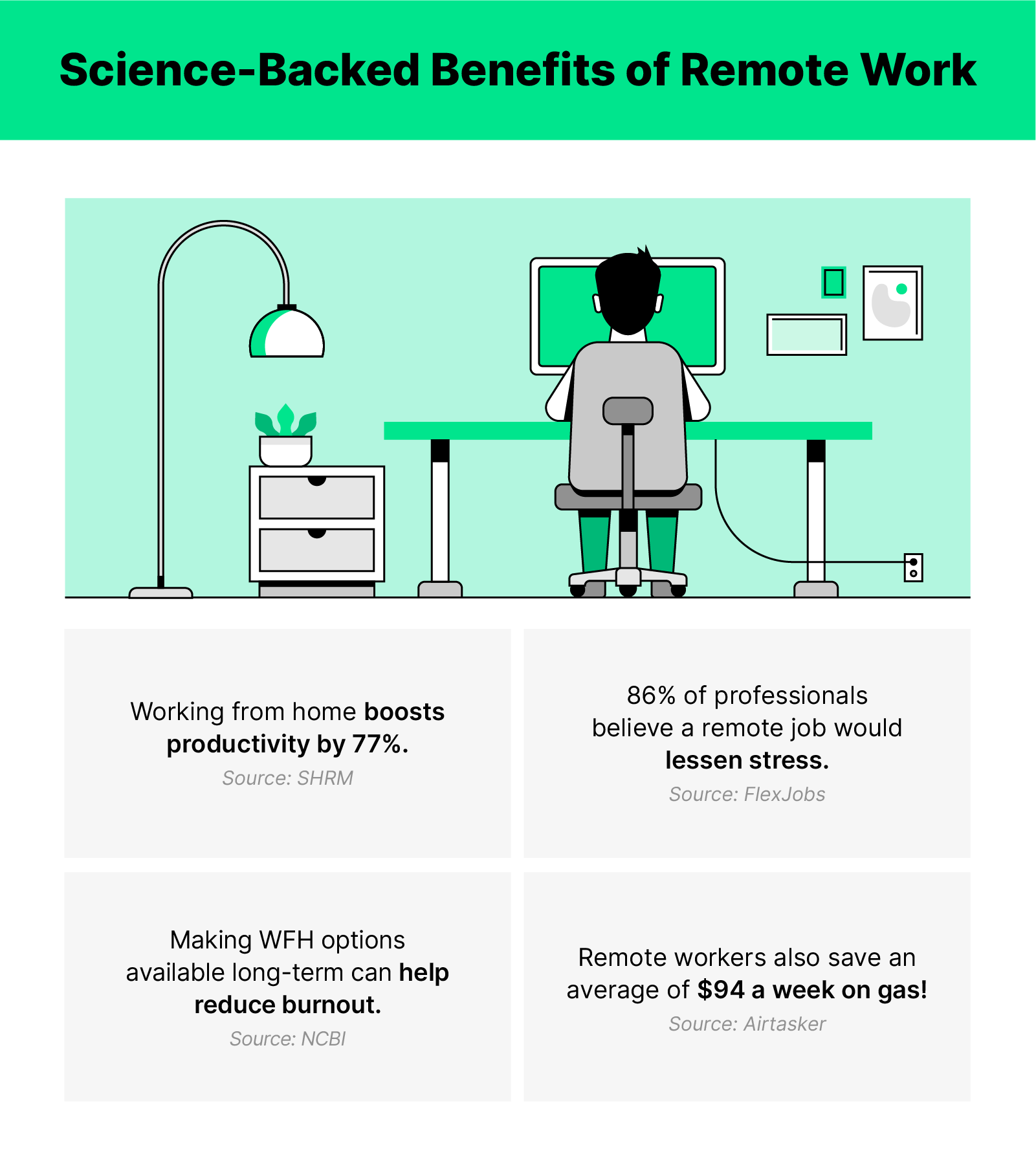 7 science-backed tips to help you love remote work
Zoom fatigue, work-from-home blues, digital exhaustion…whatever you want to call it, there's a lot of different ways to describe feeling down when working remotely. But with just a few tweaks to your daily routine, you can easily find yourself enjoying this new environment more than you ever have before. Try out any (or all) of the tips below and let us know how they work for you.
1. Try out a fake commute
While you may not miss the hours spent sitting in rush hour getting to and from work every day, it turns out your commute had some perks that you're missing out on as a remote worker. Luckily, you can take advantage of these benefits (while still avoiding traffic) by trying out a fake commute.
A fake commute is a daily activity that you work into your schedule to help transition between working and non-working hours. Whether it's a walk around the neighborhood, reading a chapter of a book, taking a workout class or spending just a few minutes in meditation, a fake commute can help make the transition between work and play a bit easier. The benefits of fake commuting include reduced stress and increased creativity, as you're giving your brain an opportunity to reset and get ready for the day or night ahead.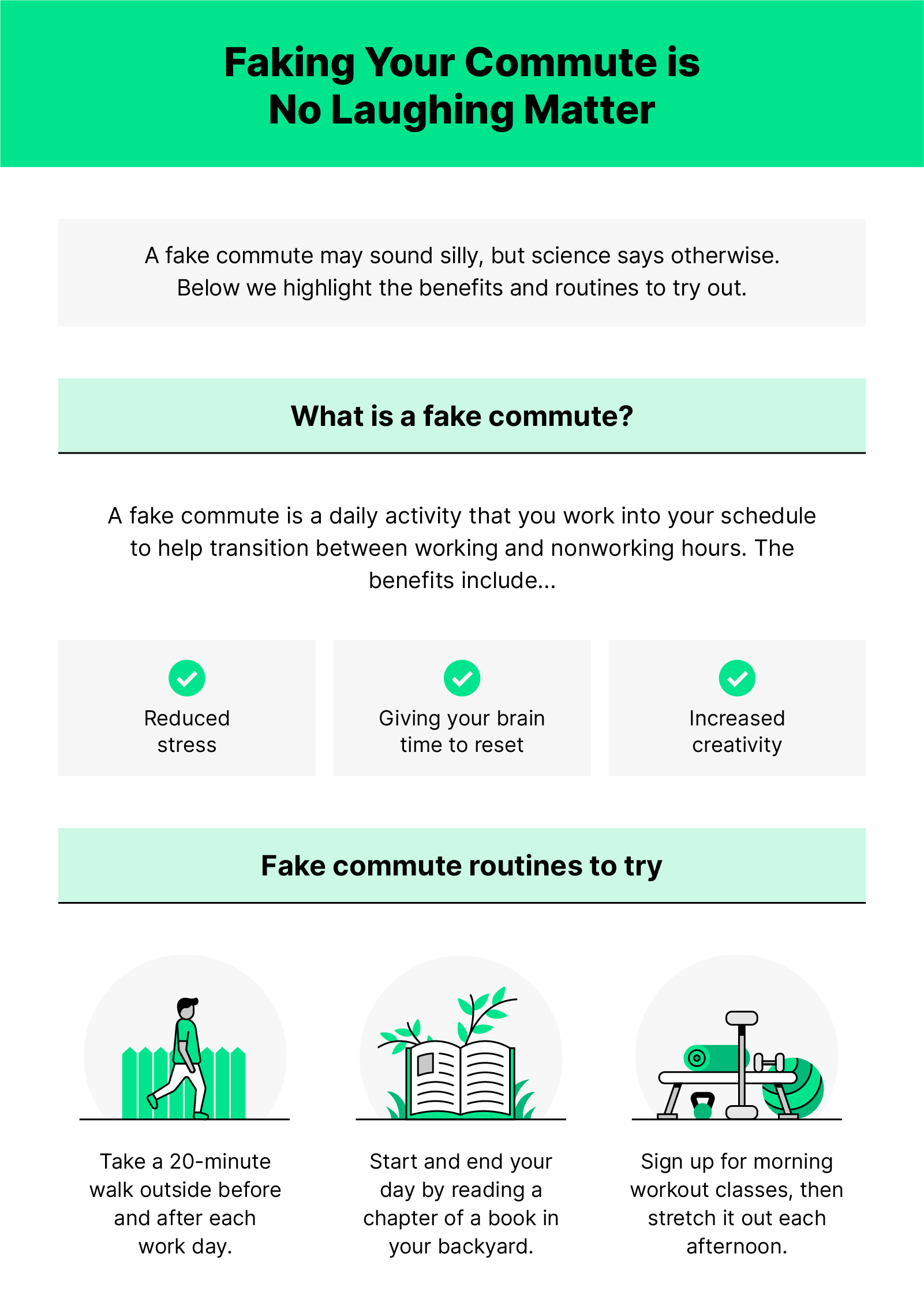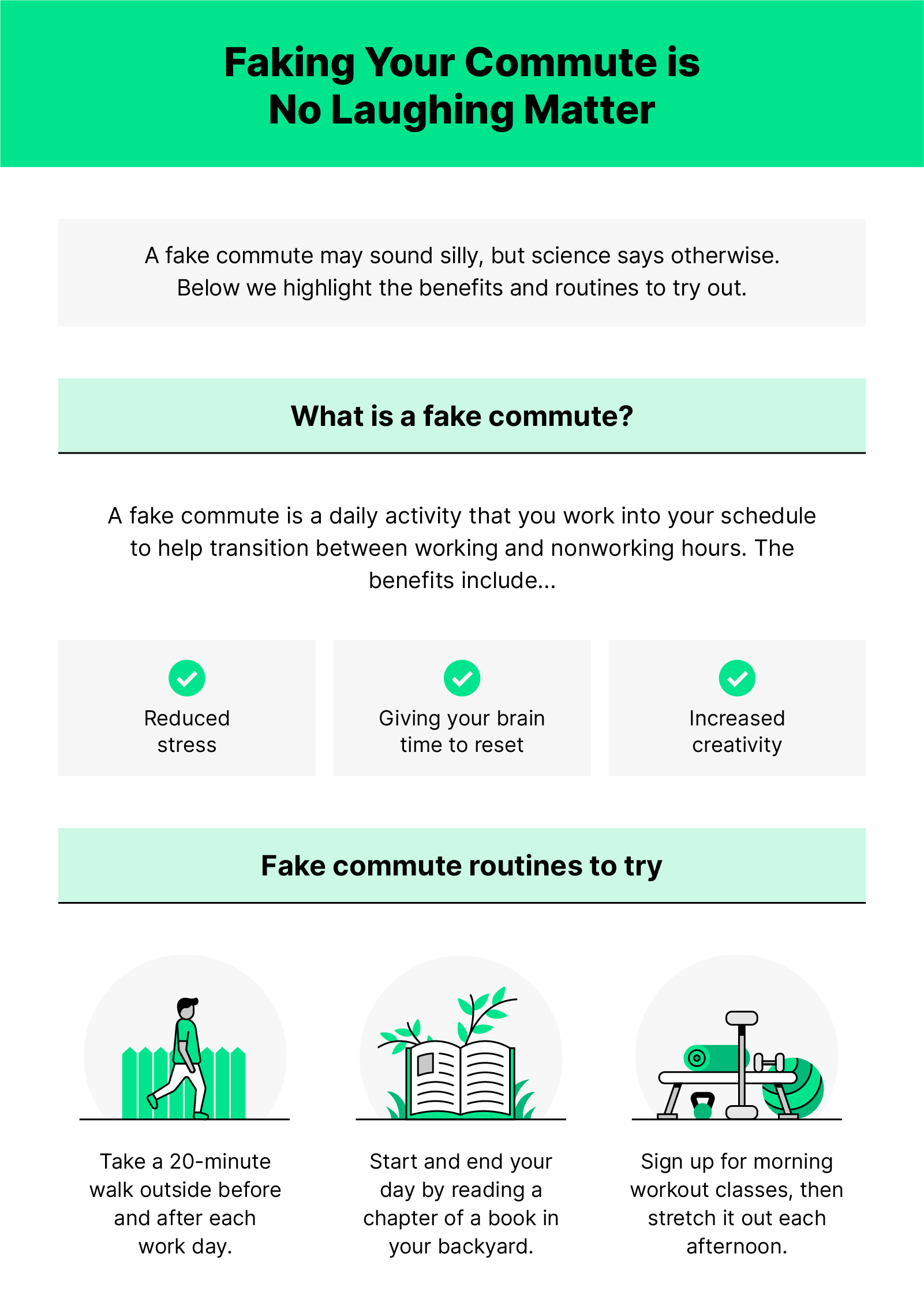 2. Create a routine
Routines can be a comforting and rewarding thing to implement into your work-from-home life. From a ritual of making coffee and enjoying the sunrise each morning to taking breaks at the same time each day to clean your house, there are plenty of routines remote workers can try out to improve their well-being.
Sticking to a consistent schedule in terms of when you wake up and go to bed, when you work and how often you exercise or socialize can lead to improved sleeping patterns, stress levels and overall health. In fact, routines are so powerful that they've also been shown to ease bipolar disorder and aid in recovery.