Phones By The Numbers: 22 Surprising Smartphone Statistics
Popular on CamTrader
Articles / Posted 7 months ago / 111 views
One does not need to be a data analyst to figure out that smartphones have taken the world by storm. All you really need is a pair of eyes. It's clear that our phones have become intertwined with almost all aspects of our lives. Nearly everyone has one, and we're pretty much glued to them 24/7.
Whether this is a good thing or a bad thing is up for interpretation. On the one hand, our phones open up so many opportunities. On the other hand, we don't honestly know the impact of so much screen time or our total reliance on digital technology.
Leaving philosophical discussions to the side for the moment, let's look at some numbers related to phones. Some are surprising, and others are downright shocking, but they all give us some insight into just how important phones have become in the year 2021.
Smartphone Use Around the World
To get started, here are some general stats about smartphones around the world:
1. There Are Currently 4 Billion Smartphone Users in the World
As of writing, more than four billion people in the world have a smartphone. This is a pretty remarkable number considering it represents more than half of the world's population.
At first glance, maybe thought there would be more? Yet, a little less than a third of the world's population are children, which means that almost all adults worldwide have a smartphone.
Of course, there are places where persistent poverty makes it difficult for smartphone ownership to take off. However, as we'll see in a moment, the younger populations in these countries are rapidly getting connected, suggesting we are well on our way to near-100 percent penetration when it comes to smartphone use.
What's also interesting is the growth in smartphone users. Check out this graph using data from Statista:
As you can see, the number of smartphones in the world has more than quadrupled since 2012. A big reason for this is the falling cost of devices, making them more accessible to lower-income brackets. The widespread availability of mobile broadband is also a contributing factor. Only time will tell if growth continues into the future or if it begins to level off.
2. There Are More than 270 Million Smartphone Users in the United States
How many of those smartphone users live here in the United States, you ask? A tiny percentage; there are currently 270 million smartphones in the US. Of course, the US makes up a relatively small portion of the world's population, so this number isn't too significant.
However, we do know that 270 million people having smartphones means that 81 percent of the population has a device to their name. This is pretty high, though it's not the highest number in the world. That title belongs to…
3. South Korea Leads the World in Smartphone Ownership
According to a study from Pew, not only does every single South Korean have a cellphone of some sort, but 95 percent of the population has a smartphone, which is the highest penetration rate in the world.
Let's take a look at the complete list provided in the study:
South Korea – 95 percent
Israel – 88 percent
Netherlands – 87 percent
Sweden – 86 percent
Australia – 81 percent
US – 81 percent
Spain – 80 percent
Germany – 78 percent
UK – 76 percent
France – 75 percent
Italy – 71 percent
Argentina – 68 percent
Japan – 66 percent
Canada – 66 percent
Hungary – 64 percent
Poland – 63 percent
Russia – 59 percent
Greece – 59 percent
The United States is tied for fifth with Australia when it comes to smartphone penetration rates. Interestingly, there are so many "rich" European countries with relatively low penetration rates, such as the UK, France, and Italy.
Of course, penetration rates aren't low, but we would expect numbers more similar to those found in the US if income were the only factor. As as we'll see in a moment, it isn't always. Age often plays more of a role, and these four countries have some of the oldest populations globally, which might explain why penetration rates aren't higher.
4. In the Global South, Young People Have Way More Phones than the Elderly
In general, the Global South, the term we use to refer to the poorer, emerging economies, have fewer smartphones. Low incomes are presumably to blame for this.
However, when we dig deeper into the numbers, we can see that age plays a significant factor. Even in the richer countries we just looked at, it plays a role. Take a look at some of these numbers: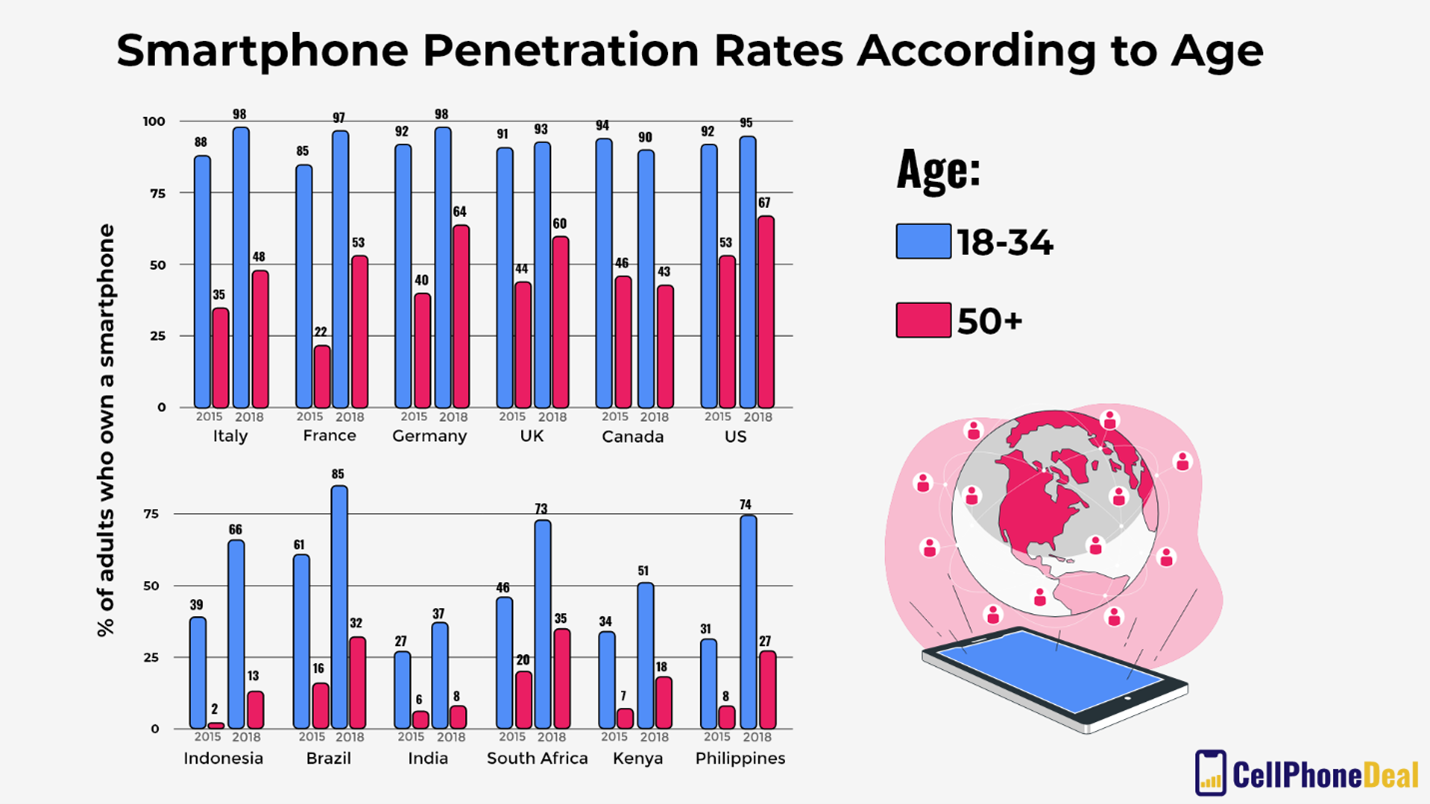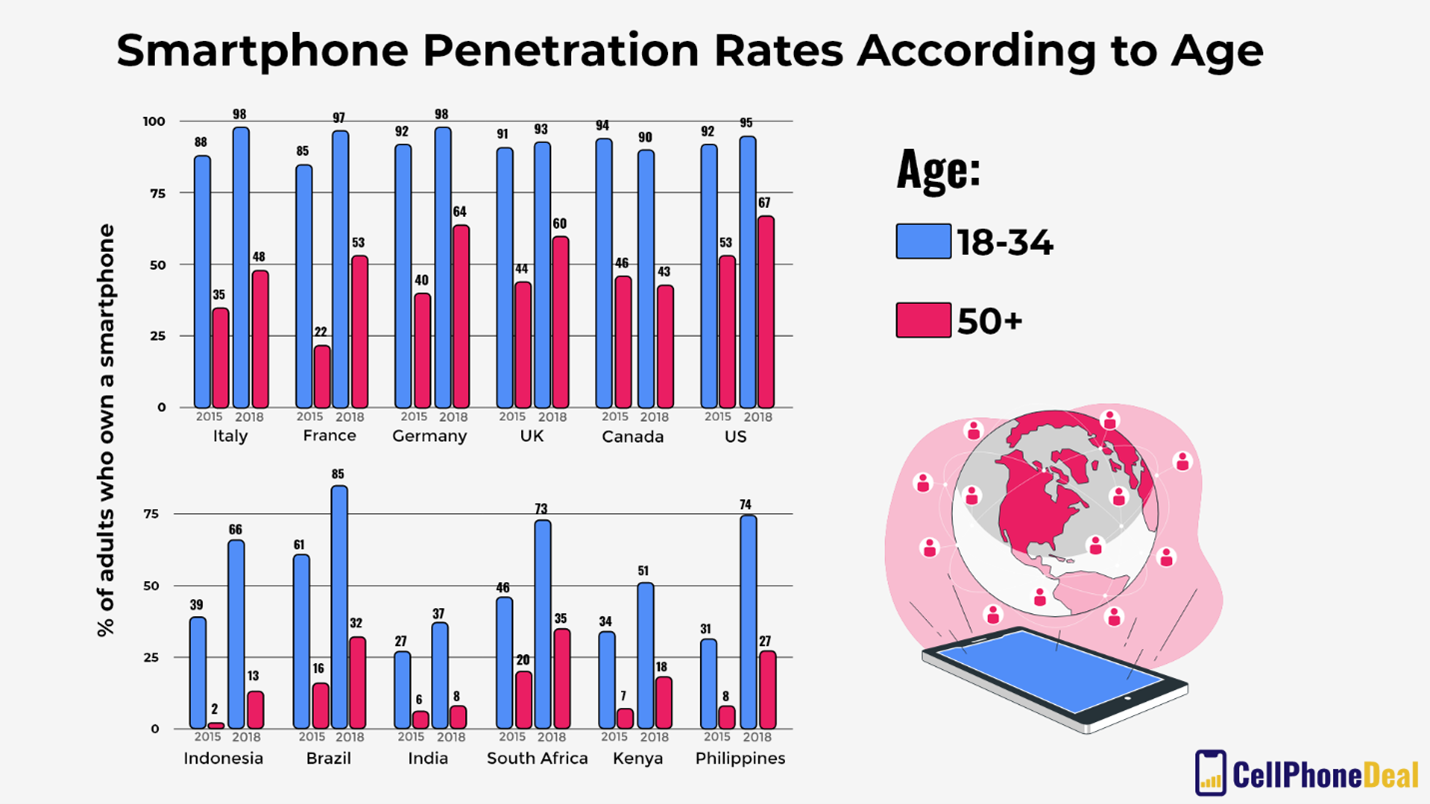 What makes penetration rates in the US higher than those in, say the UK, is that more of the older population has a smartphone. The same is true in Japan, Italy, Germany, Canada, and France. When we look at the developing countries, we see an even bigger gap.
For example, in Indonesia, just 13 percent of the people aged 50+ have smartphones, whereas 66 percent of those between 18-34-years-old have one. A similar situation is also playing out in the Philippines.
This suggests that smartphone use is growing rapidly and that sometime soon, as these younger groups age, overall penetration rates will continue to rise.
5. 91 Percent of College Graduates Own a Smartphone
As we can see, smartphone penetration rates still haven't reached 100 percent in the US, and they still aren't all that close. We know that part of the reason for this is that is age – older people are less likely to have a smartphone. However, there's likely something else at play.
According to Pew, 91 percent of college graduates have a smartphone. If we continue looking at these numbers, we find that 85 percent of people with "some college," 72 percent of high school graduates, and just 66 percent of adults without a high school degree have smartphones.
This suggests that education level has something to do with one's ability to get a smartphone. However, if we look a little closer, we see that it's not so much the education as what that education gets you, mainly a high-paying job.
6. 90 Percent of Those Earning More than $50,000 Per Year Own a Smart Phone
If we take a look at how income affects smartphone ownership numbers, here's what we find:
$75,000+ – 95 percent
$50,000 – $74,999 – 90 percent
$30,000-$49,999 – 78 percent
Less than $30,000 – 71 percent
Clearly, the most significant barrier to getting a smartphone is income. This makes sense; smartphones are expensive. It also mirrors what we see going on in other parts of the world. Therefore, if what we want is for everyone to have a smartphone, we need to pay attention to the rising income inequality in the United States.