A big misconception about pet insurance is that it's too expensive. We spend hundreds of dollars on ourselves and our families each month for health insurance, yet we don't get coverage for our furry "children." In reality, paying $50 per month* for pet insurance could end up saving your pet's life. 
Instead of being hit with an $8,000 vet bill because your dog needs cancer treatment, you can have a vast majority of it covered through pet insurance. The worst scenario is learning that your dog has cancer but turning down treatment because you can't afford the bills.
No one wants to face this decision, and signing up for pet insurance can cover much of the cost. Pet insurance allows you to make the best choices when an emergency arises instead of the least expensive ones.
Pet insurance can also prevent a tragedy commonly referred to as "economic euthanasia." This is when a pet owner can't afford treatment and asks the vet to put down the pet rather than care for him due to financial limitations.
For this reason, it's vital to consider buying pet health insurance to protect your canine (and your wallet) from some of the most unfortunate incidents in a pet's life. The table below shows which companies are in our top picks for the best pet insurance in 2022.
| Ranking | Overall | Best Value | Fastest Claim Processing | Discount For Multiple Pet | Newcomer |
| --- | --- | --- | --- | --- | --- |
| Company | Pets Best | Figo | Healthy Paws | Embrace | Lemonade |
| Policy Coverage | Comprehensive | Comprehensive | More Limited | Comprehensive | More Limited |
| Customer Service & Reputation | Good | Excellent, Stable | Excellent, Stable | Excellent, Stable | Uncertain, New |
| Claim Processing (avg) | 25-40 Days | 3 Days | 2 Days | 5 Days | 2 Days |
| Policy Price (avg) | Lower | Lower | Highly Variable | Higher | Lower |
| Plan Customizations | Many Options | Many Options | Restricted Options | Many Options | Many Options |
| | Read Review | Read Review | Read Review | Read Review | Read Review |
Article Overview
FAQ's
Pet Insurance Reviews
Still Unsure?
What Is Pet Insurance?
Pet insurance is the pet equivalent to human health insurance. Having your dog or cat protected by a good health insurance plan can put your mind at ease by knowing that large, unexpected medical bills will be covered.
There are three types of pet insurance plans: accident-only, accident and illness, and wellness. You may opt for one or two of these plans depending on your preference. Be aware that not all pet insurance companies offer wellness plans.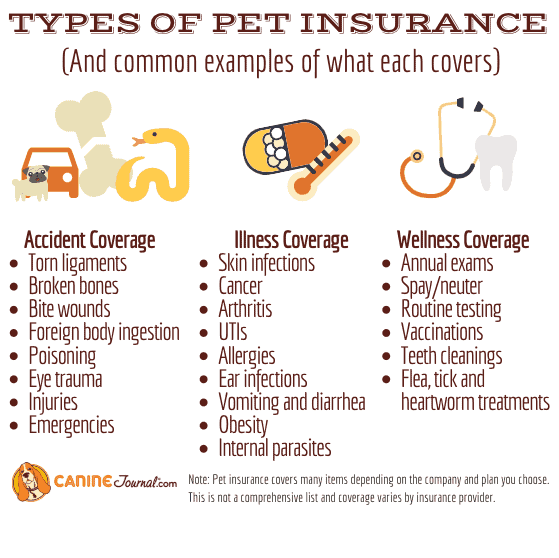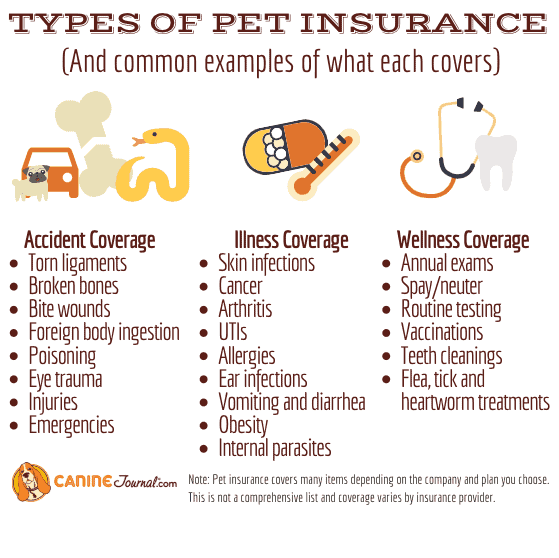 1) Accident-Only Coverage
You can't predict an accident, but you can plan for potential incidents that could cost you a fortune. Some pet insurance companies offer accident-only coverage, including torn ligaments, broken bones, bite wounds, and other pressing health needs. So basically, anything associated with a sudden physical injury is covered by an accident-only plan.
Accident-only plans are usually more affordable than accident and illness plans. They can be good options for pets with pre-existing illnesses for which they can't obtain coverage.
2) Accident And Illness Coverage
Accident and illness policies are the most comprehensive pet insurance plans because they cover items listed in the accident-only plan as well as illnesses like cancer, arthritis, urinary tract infections, allergies, and more.
Many pet insurance companies limit their illness coverage as pets age, which is why it's essential to get insurance while your pet is young to reduce pre-existing condition exemptions and your monthly cost.
3) Wellness Coverage
Is pet insurance worth it for wellness/preventative coverage? Wellness coverage is always optional because, depending on your preferences, you can pay for wellness expenses on your own or include it as an add-on with your pet insurance premium to avoid paying out of pocket all at once for routine vet visits.
A pet wellness plan may cover fees associated with:
Annual exams
Spay/neuter procedures
Routine blood panels
Heartworm testing and treatment
Fecal testing
Urinalyses
Routine vaccinations (e.g., rabies, distemper, hepatitis, leptospirosis, parvovirus, Bordetella)
Teeth cleanings
Flea and tick treatments
Keep in mind; a single routine annual vet exam can cost upwards of $300 depending on your vet, where you live, and the types of procedures, vaccinations, and tests your pet requires. Wellness plans are becoming increasingly popular to manage these expenses. This is why more companies are offering them, including an add-on to some pet health insurance plans. But not every company covers every item you might expect in a preventative care package, so be sure to read the fine print before you sign up. It might also be wise to discuss your policy coverage with your vet's billing department before you opt-in to annual checkup items to make sure they are covered.
We review the best pet wellness plans to help you learn how to cover all your bases. Our article includes pricing, coverage details, and more.