How to Deal with Anxiety
Articles / / 439 views / Popular on CamTrader
Treatments for anxiety include prescription drugs, counseling, meditation and exercise. Experts recommend a combination of these modalities. Experiencing some anxiety when facing difficult decisions or life changes is normal, but when that anxiety interferes with daily life it becomes a disorder.
About 40 million American adults have an anxiety disorder, according to the National Alliance on Mental Illness. This makes anxiety disorders the most common mental illness in America.
Anxiety disorders are characterized by feelings of anxiety that go beyond worrying about everyday things like problems at work or school or dealing with life changes. People with anxiety disorders may have constant, uncontrollable fear that interferes with their lives.
COPING WITH ANXIETY DURING COVID-19
The stress of a crisis can take a toll on your mental health. Finding ways to cope with your fear and anxiety will help you and the people you care about stay strong during the coronavirus outbreak.
Learn More
Anxiety may also lead to other health problems or habits that may worsen health. For example, people with anxiety may suffer from insomnia, chronic pain or digestive problems. Smoking and vaping is also a problem for people with anxiety, and both of these habits lead to health problems.
People with anxiety and other mental disorders smoke at two to four times the rate of the general population, according to the National Institute on Drug Abuse. They are also twice as likely to have tried e-cigarettes, according to a 2014 study led by Sharon Cummins of University of California, San Diego School of Medicine.
"In my practice, I would say probably 40-ish percent of folks actually have an anxiety issue or disorder," said licensed mental health counselor and psychotherapist Stacy O'Mara. "Usually for [these patients], that means they are missing sleep." Treatment is recommended "when they're at risk of maybe losing a job, losing a partner," she said.
"I think that there's hope for everybody, and we just have to figure out how to help people feel ultimately empowered and safe."
E-CIGARETTES & ANXIETY
Studies have found that e-cig users are twice as likely to suffer from depression, anxiety or other emotional conditions. Learn about other e-cigarette side effects.
Anxiety manifests itself in many ways, from general anxiety disorder to social anxiety disorder. The condition is highly treatable, but less than 40 percent of people who experience anxiety receive treatment, according to the Anxiety and Depression Association of America.
"I think that there's hope for everybody, and we just have to figure out how to help people feel ultimately empowered and safe and that they do have a predictable, controllable environment," O'Mara said.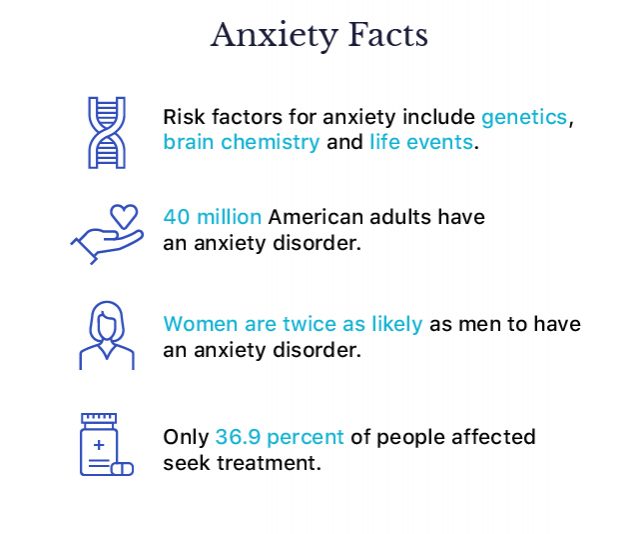 Genetic, Environmental and Traumatic Causes
Mental health professionals aren't sure what actually causes anxiety. But studies suggest several factors combined may contribute to the illness. These include genetics, environmental stresses, traumatic events and underlying medical problems.