As you explore the elegant nuances of wearing a suit, the color combinations for the shirt and tie become essential.
In fact, the shirt and tie colors determine how the suit will be perceived.
Color matching is also important to blend in with the occasion.
So, the prerequisite here is an understanding of the color wheel.
Basic Color Schemes from the Color Wheel
The color wheel combines the various color tones displayed in a circular pattern. Primarily, it indicates a relation between colors.
First, there are two color sections: warm and cool.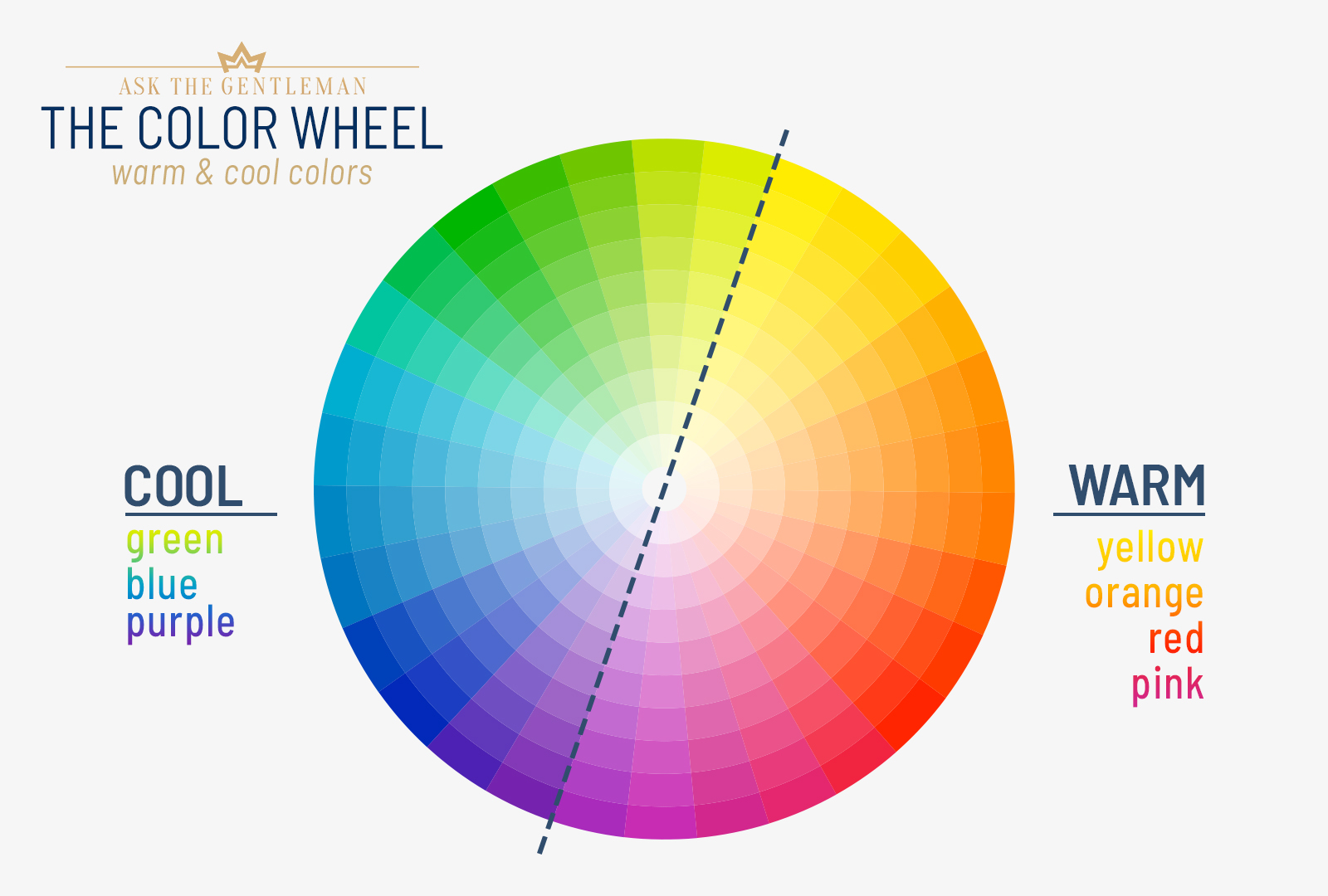 Warm colors are vibrant and energetic. In menswear, these are red, orange, brown, maroon, etc.
Then come the cool colors, which are cold and calm. Blue, purple, greys, and most greens are examples.
Mixing these colors together is the best way to create combinations that blend perfectly.
Monochromatic Color Combinations
If all items of an outfit have shades or hues of a single color, it is considered monochromatic.
One of the most common monochrome examples is wearing a navy suit with a light blue shirt and a darker blue tie.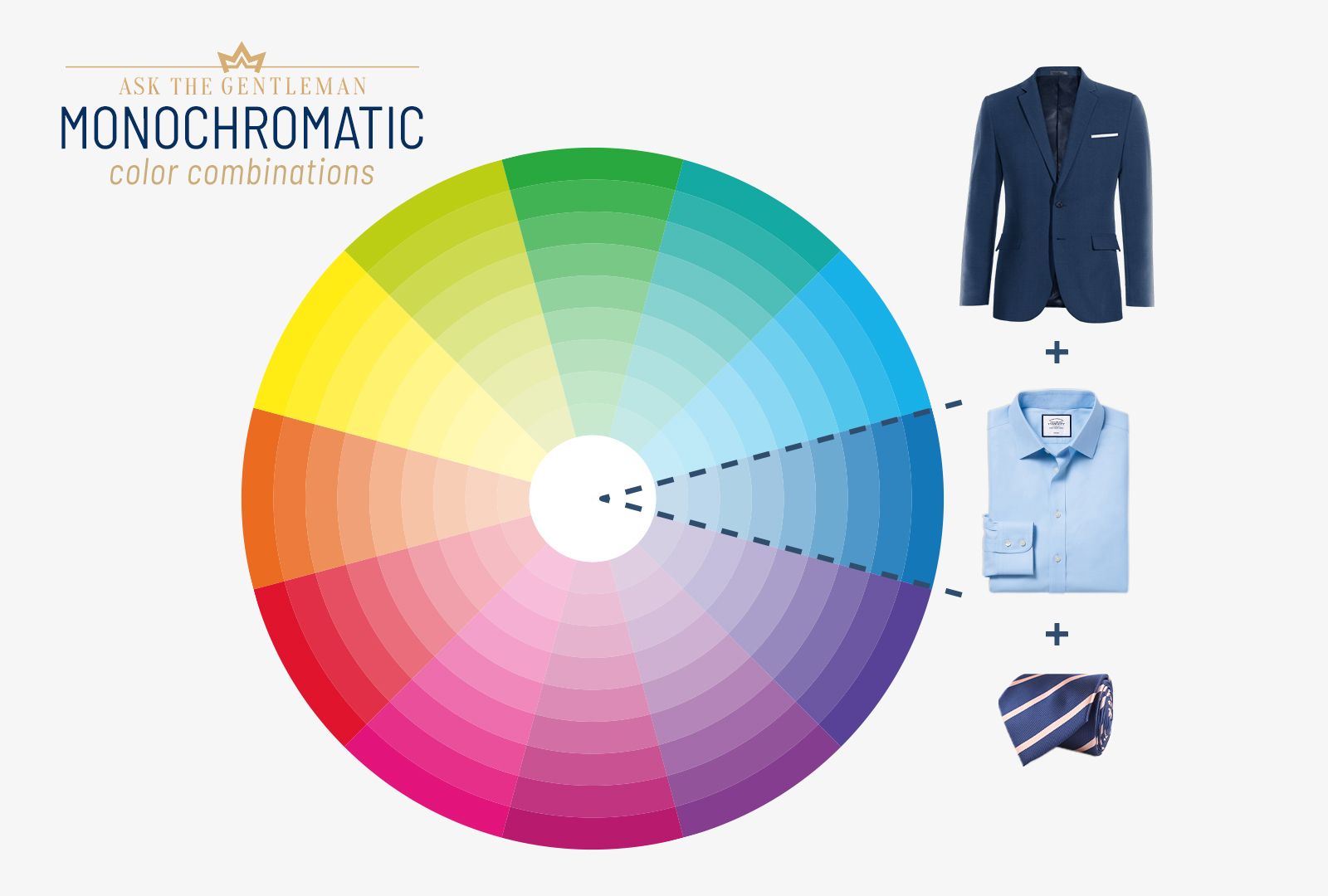 Another example is wearing a grey suit with a light grey shirt and a charcoal tie.
In menswear, a monochromatic color combination is considered a rudimentary style approach.
Analogous Color Combinations
Analogous colors are similar in warmth, close/adjacent to each other on the color wheel, and feature a common color.
For example, pink shirts and purple ties will be analogous. You can mix these with a navy or maroon suit to achieve a full analogous combination.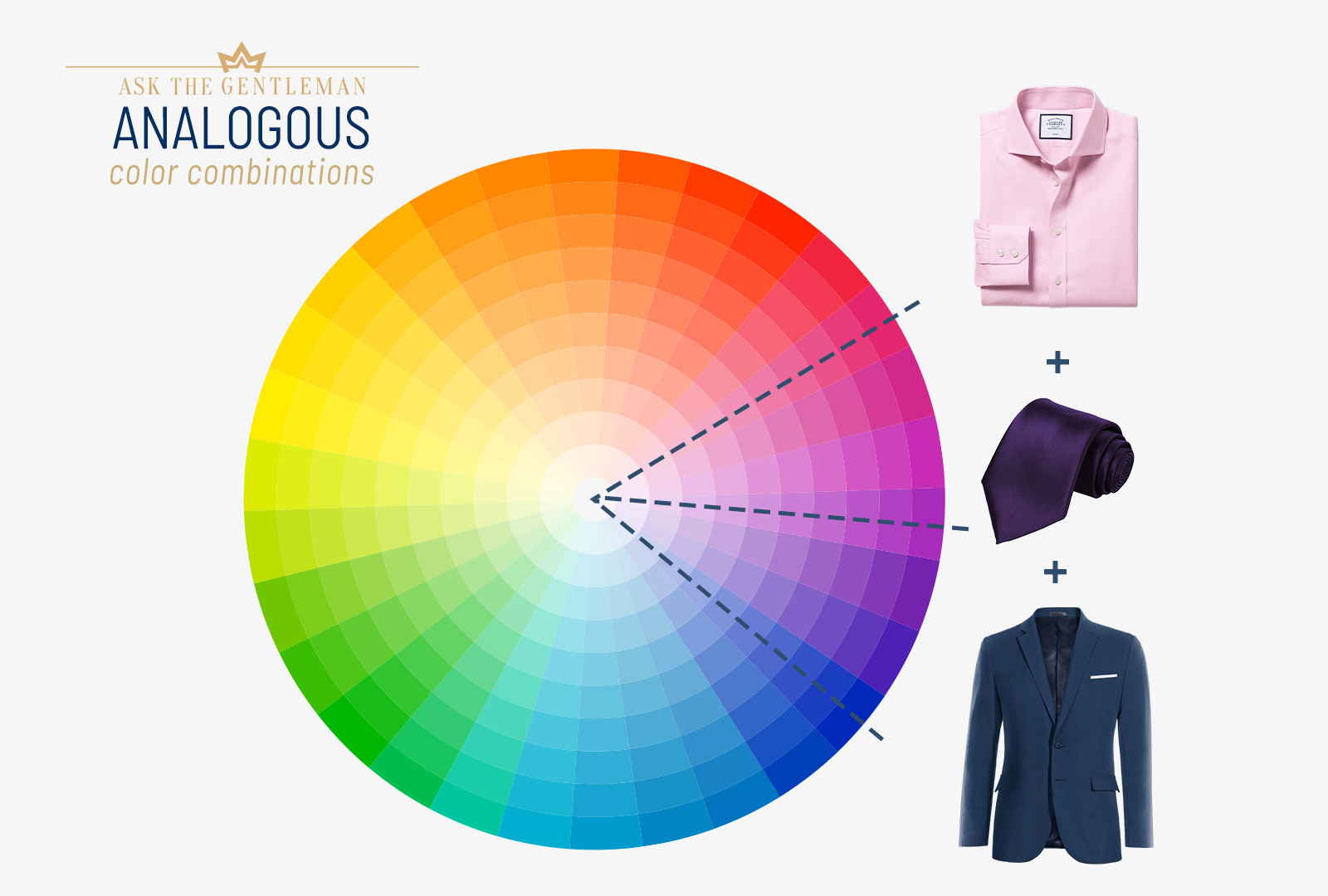 Analogous colors often have a slight contrast and look very pleasing to the viewer.
Triadic Color Combinations
Triadic is a three-color scheme, all equally spaced on the color wheel. These often have an appropriate contrast and therefore look harmonious.
An example would be red, blue, and yellow, all primary colors.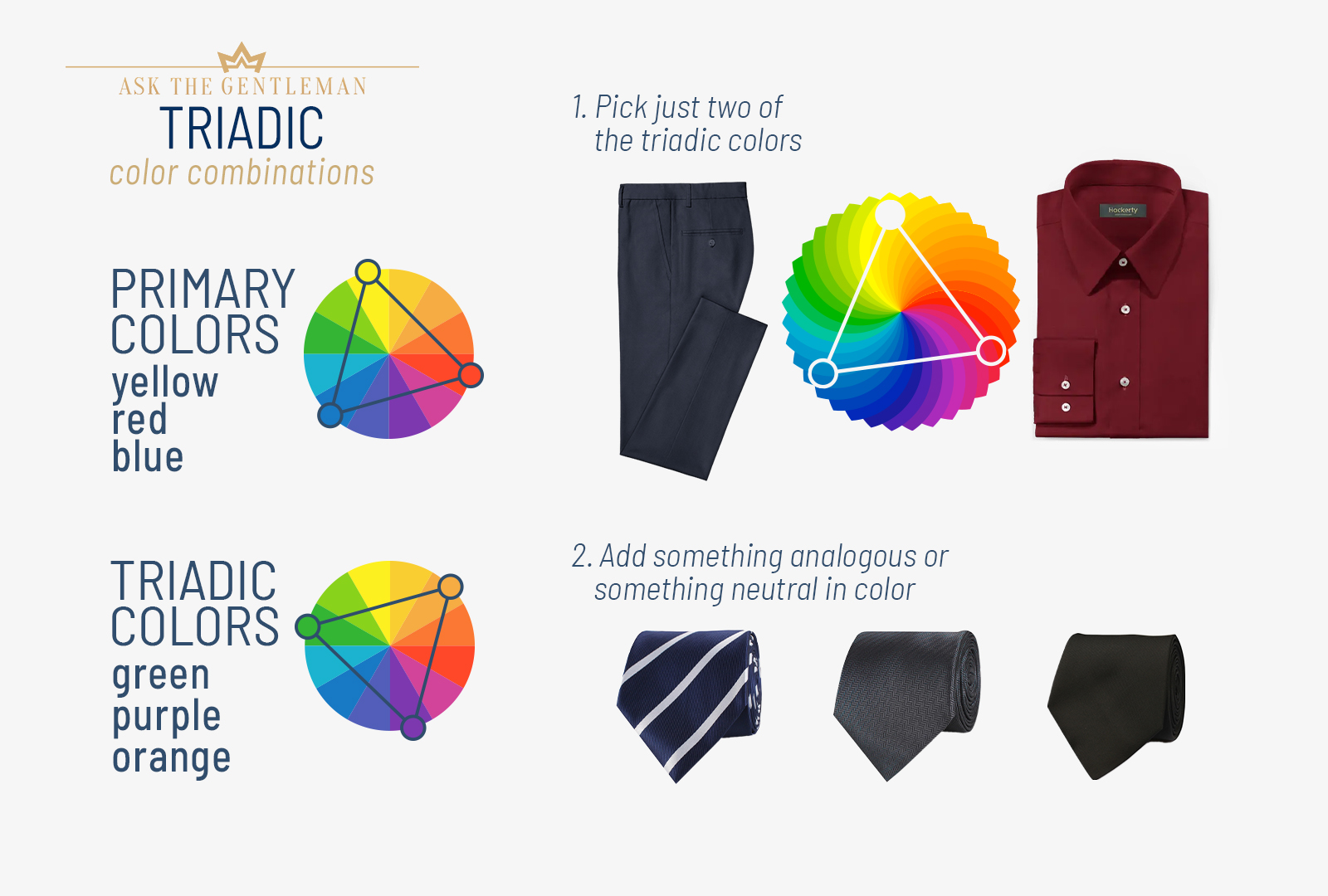 Similarly, purple, orange, and green are also triadic colors.
My advice with triadic colors is to pick just two and mix them with something analogous or neutral, like white.
Complementary Color Combinations
Complementary colors are opposite to each other on the color wheel. As a result, they provide the maximum possible contrast.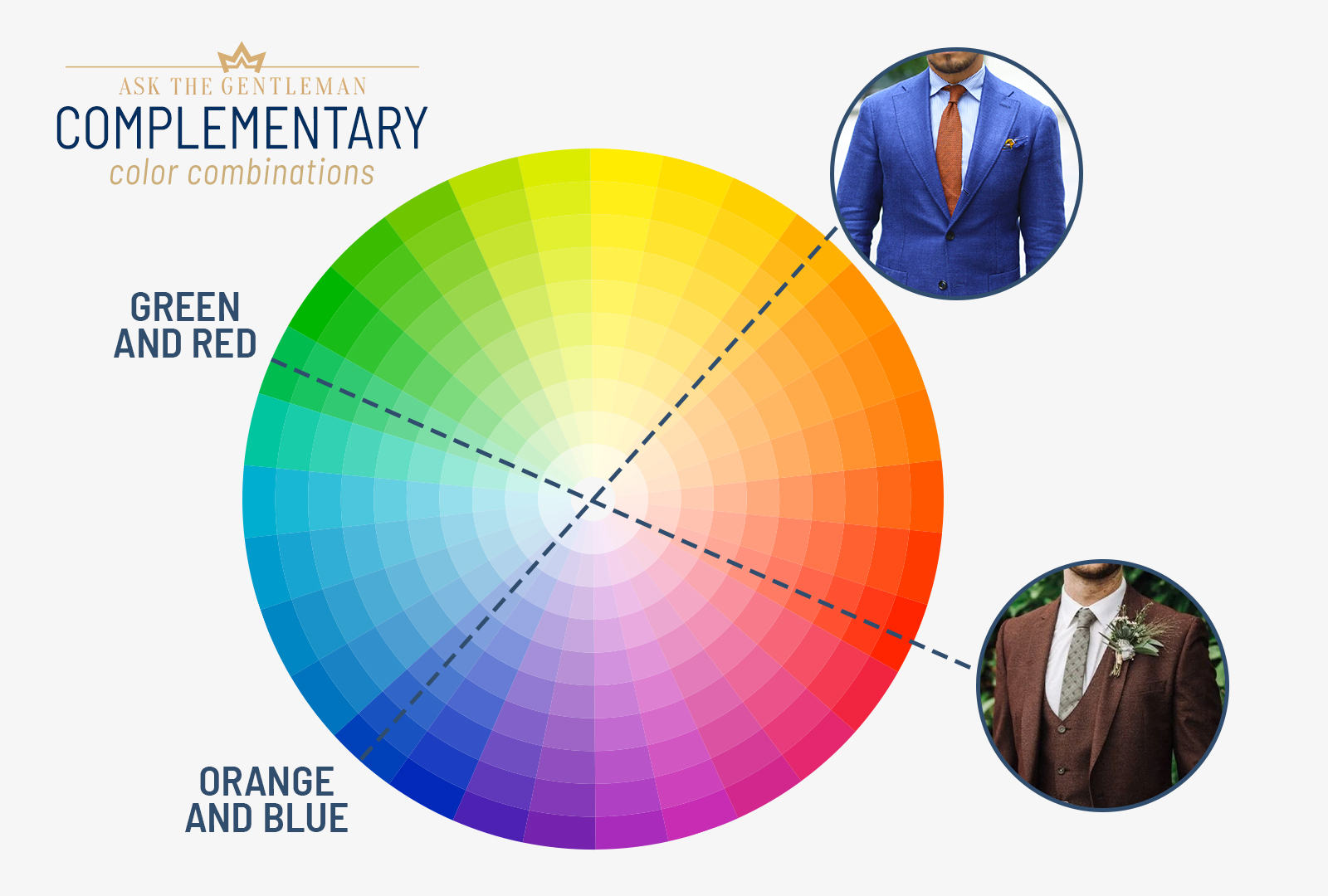 Some examples will be red and green, blue and orange, or yellow and violet.
This contrast is very bold. As a result, it takes quite an effort to style these colors together.
Navy Suit Color Combinations
The navy has a universal acceptance as the most versatile suit color.
It has an innate charisma of making a person youthful while effortlessly blending formality and style.
There are myriads of outfit opportunities with different shirt and tie combinations.
Generally, dark or midnight blue, grey, brown, pink, and red are matching colors for a navy suit.
However, all of them can't pair in the same outfit, so these can vary to fit the occasion.
Navy Suit and White Shirt
A white dress shirt is a classic horseman for any suit. It tones down the navy outfit, adding room for ties.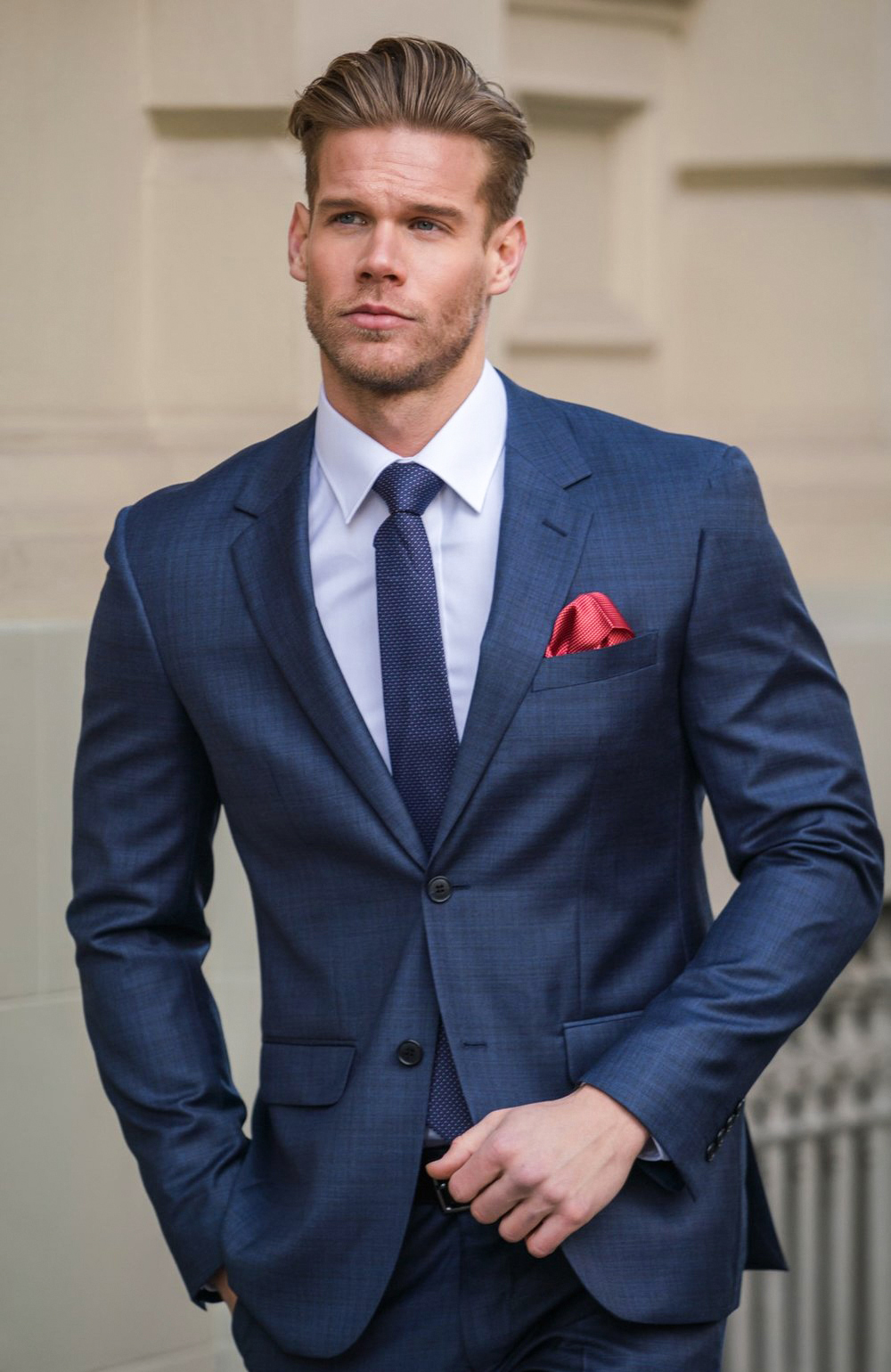 You can narrow down your options with a navy suit and white shirt into two.
The first is a full business look. It's for corporate gentlemen who want to spray confidence.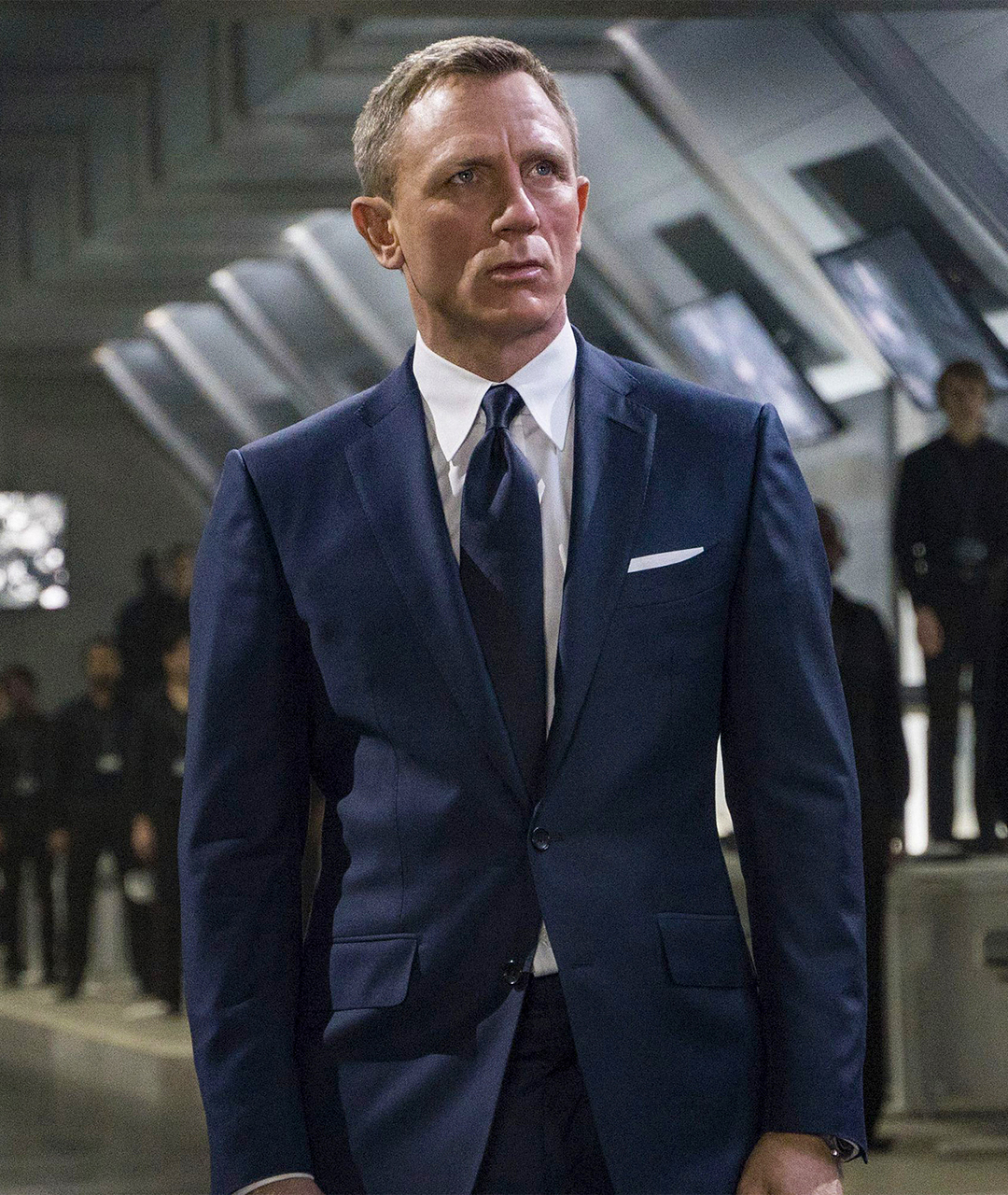 A navy and white repp tie will be a timeless addition.
Also, diagonally striped ties mean business and pair well with a navy business suit. I suggest brown, navy, and grey for striped ties.